Is dry drowning possible?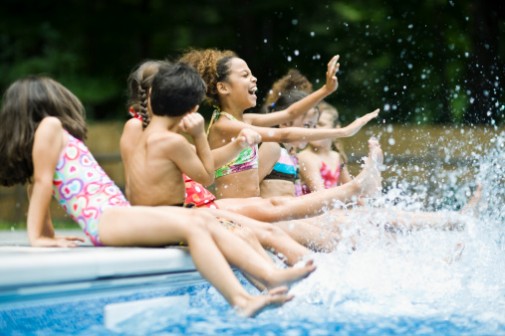 With the official start of summer this weekend, experts are sending out a warning. A near-drowning in a pool or lake could actually take days to turn deadly – long after the "saved" victim is out of the water.
That is the word from Dr. Luis Torero, a physician specializing in critical care at Advocate Children's Hospital in Oak Lawn, Ill., who says secondary drowning can occur hours – even days – after a young victim has been "saved" from a near-drowning event.
The symptoms of secondary drowning in children can include abnormal exhaustion, irritability, and labored, fast-paced breathing. Dr. Torero also advises parents to look for changes in the color of the child's lips.
"A paleness or blue tint suggests a lower oxygen concentration in the blood," Dr. Torero says.
Taken together, these symptoms are a sign of pulmonary edema, the term used to describe the process that occurs when a victim's body pushes fluid into the lungs.
"If there was something irritating or toxic in the water that the child aspirated during the drowning event, the lungs will have an inflammatory reaction, and pulmonary edema will develop," he says. "Even if the child who went through a near-drowning event didn't aspirate water to his or her lungs, the stress on the body is such that inflammation and pulmonary edema can still happen."
While Dr. Torero says that secondary drowning is more common in boys than girls and is most prevalent in children under 5 years of age and teenagers, he urges parents to keep an eye on all kids around water of any kind. In fact, the Centers for Disease Control and Prevention reports that three children die every day as a result of drowning.
According to the U.S. Centers for Disease Control and Prevention, about ten people die from unintentional drowning, every day. Of these, two are children aged 14 or younger. Drowning ranks fifth among the leading causes of unintentional injury death in the United States.
"Constant supervision is fundamental. You can't leave a child alone for even a second, because that is all it takes for the damage to be done," Dr. Torero says. "This includes in the bathtub, which is actually one of the most common places where a baby can drown or experience a secondary drowning,"
Below are some tips on how to keep kids safe in or around water:
Never leave children alone when they are in or near water – not even for a moment. An adult should be within arm's length at all times.
Around pools, install fencing that is high and stable enough to keep kids out.
Keep rescue equipment near a pool. Such equipment includes a life-preserver and a telephone to use in case of emergencies.
"Floaties," the inflatable devices often put on children's arms, are not substitutes for life vests. Put certified life vests on children around water.
For more information on preventing secondary drowning, visit the American Academy of Pediatrics' website.
Related Posts
Comments
About the Author
Holly Brenza, health enews contributor, is the public affairs coordinator at Advocate Children's Hospital. She is a graduate of the University of Illinois at Chicago. In her free time, Holly enjoys reading, watching the White Sox and Blackhawks, playing with her dog, Bear and running her cats' Instagram account, @strangefurthings.