FDA warns about teething treatments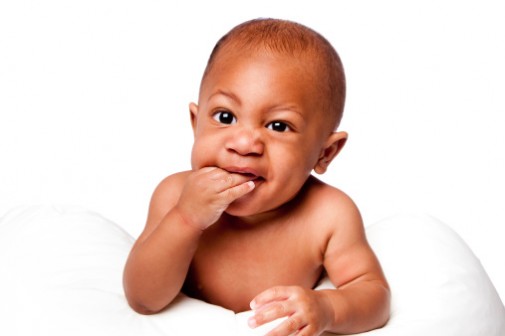 Any parent or caregiver who has heard the crying of a teething baby knows how much you want to alleviate the infant's discomfort, and as quickly as possible.
But the Food and Drug Administration recently issued a warning that caregivers should not use prescription drugs such as viscous lidocaine to treat teething in infants or young children. Such drugs – a local anesthetic in a gel-like syrup – are not safe for infants or young children and in some cases have caused harm, the FDA says.
"Teething is a normal phenomenon; all babies teethe," says Dr. Ethan Hausman, a pediatrician and pathologist at the FDA. "FDA does not recommend any sort of drug, herbal or homeopathic medication or therapy for teething in children."
From six months of age to about age 3, children get about 20 "baby teeth" in total. According to the American Academy of Pediatrics, teething symptoms can include low-level fever, drooling, mild irritability and an urge to chew on something hard.
The FDA advises that if a child's gums are swollen or tender, the parent can gently rub or massage the gums with his or her finger, or give the child a cool (not cold) teething ring or a clean, wet, cool washcloth to chew on.
Dr. Katy Talerico, a pediatrician at Advocate Condell Medical Center in Libertyville, IL, agrees with the FDA.
"I have never recommended using viscous lidocaine for teething," Dr. Talerico says. "This year alone, the FDA has received 22 case reports of serious adverse reactions, including deaths, in infants and young children related to oral viscous lidocaine 2 percent solutions."
Dr. Talerico says other serious adverse events from viscous lidocaine are seizures, damage to the nervous system (which includes the brain), and heart problems. For benzocaine products (such as Anbesol and Orajel), methemoglobinemia can occur – this condition prevents delivery of oxygen from the blood to tissues, and can be fatal, she says.
"Physicians and parents, of course, would love to relieve the pain of teething," Dr. Talerico says. "But, in my opinion, doing so with viscous lidocaine, or benzocaine products, isn't worth the potentially serious side effects. Topical pain relievers that are applied on the gums wash away within minutes anyway, so is it really worth risking serious side effects for just a couple of minutes of relief?"
If cool teething rings or washcloths and/or gum massage don't work, Dr. Talerico recommends acetaminophen or ibuprofen (the latter only if the child is more than six months old).
Related Posts
Comments
About the Author
health enews staff is a group of experienced writers from our Advocate Aurora Health sites, which also includes freelance or intern writers.