Why almonds are good for your heart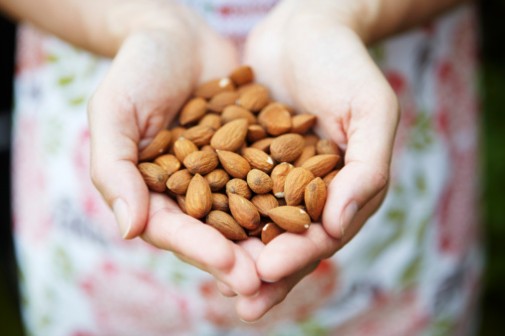 Want to keep the blood vessels to your heart healthy? A new study suggests adding almonds to your diet.
The study, conducted by Aston University in Birmingham, UK, looked at the immediate effects of how almonds can affect the heart.
They analyzed two groups: one being a set of young and middle-aged healthy men and the other a group of men with heart disease risk factors.
Researchers concluded that adding almonds to a diet proved beneficial in increasing antioxidants in the blood stream, reducing blood pressure and improving blood flow.
The group that consumed a diet with almonds saw these benefits. So for those that did not already have cardiovascular risk factors, researchers believe adding almonds to the diet could defer these risks and improve health.
Lead author of the study, Professor Helen Griffiths, said, in the University press release, that the study confirms that almonds are in fact a superfood.
"Previous studies have shown that they keep your heart healthy, but our research proves that it isn't too late to introduce them into your diet – adding even a handful (around 50g) every day for a short period can help," Griffiths says. "You could replace a daytime snack with a bag of almonds or add them to your regular meals like porridge or muesli to help reduce your risk of heart problems."
Jamie Portnoy, registered dietitian with Advocate Medical Group in Libertyville, Ill., agrees that eating almonds as part of a healthy diet can be good for your heart.
"Almonds are considered to be monounsaturated fat, and small amounts of these fats daily will help to raise good cholesterol and lower bad cholesterol," Portnoy says. "A healthy snack would be one serving approximately 1 oz. of raw, unsalted almonds."
Almonds have about 163 calories per serving, and are high in protein and fiber, she says.
"One of the best things about almonds is that they are non-perishable, meaning that they are easy to throw in a bag and keep with you at all times," she says. "I always recommend to pre-portion them, even though they are heart healthy, you don't want to eat too many."
Researchers noted that almonds are just one of the nutrients that can provide health benefits and that it may not solely be the source of these health improvements.
Related Posts
Comments
About the Author
Sarah Scroggins, health enews contributor, is the director of social media at Advocate Aurora Health. She has a BA and MA in Communications. When not on social media, she loves reading a good book (or audiobook), watching the latest Netflix series and teaching a college night class.