Saying goodbye to Copper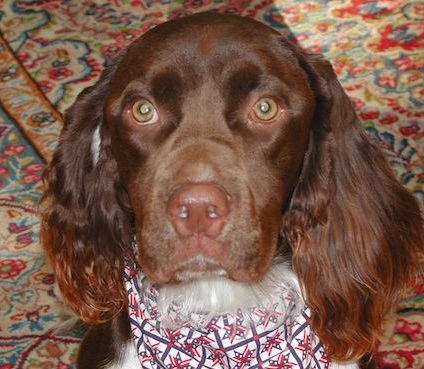 Copper, our 14 year-old English Springer Spaniel, was a devoted member of our family. We just said goodbye to him. And it's tough…really tough!
Before Copper, there was Shadow, a cocker spaniel, who we suspected was the offspring of two first cousins. Needless to say, that dog experience was less than stellar, so we vowed to get it right the next time. After months of research and investigation, we were ready to go puppy shopping.
Armed with How to Pick a Puppy for Dummies, we headed out to "meet the parents," a condition that was non-negotiable to us. Copper was in a litter of four male puppies and just six-weeks-old when we first met. His parents were pure bred springers who were both good natured and friendly. Using our book's checklist, we ran the puppies through their paces. The first one to approach is typically the alpha male and since we already had a human alpha male in the house, we moved on to evaluate the others. Since Springers are an energetic breed, our family mutually decided on Copper.
At eight weeks, Labor Day weekend 2000, we went to pick up Copper. Our How to Raise a Puppy book suggested bringing him home in a blanket-lined box. We followed that direction and were no sooner on the road when he jumped out and was nearly impossible to hold on to during the drive! It was a long ride home—we were all a little harried, but very happy. And yes, upon arrival, we promptly tossed the book into our recycling bin.
To say that Copper was a mischievous puppy would be an understatement. He chewed the wallpaper off of our island counter in the kitchen and managed to destroy most of the metal strip on the side of our fridge—we're still trying to figure out how he did that! One of his favorite tricks was to bound down the basement steps and present dirty underwear to dinner guests—he loved smelly socks as well.   More than once during his first year—mean mom (me)—threatened to send him back to his biological parents.
Truth be known—for nearly 13 years, Copper never realized that he wasn't a puppy.  He'd race around the backyard trying to catch bunnies or squirrels or chatting with his dog buddy next door. He never wanted to be too far away from his "pack." If the family was outside, Copper would literally be springing two feet into the air until we let him out the back door.
This past December, we began to notice his decline. Copper no longer could get up and down the stairs and his once agile legs would give out on him often. He was still the loving, attentive dog he always had been, eagerly greeting us and any visitors to the house but his "bad" days were increasing. We celebrated his 14th birthday on July 6, 2014 with a special party featuring his favorite foods—scrambled eggs, cheese and popcorn while singing Happy Birthday at the top of our lungs hoping he could still hear us—off key as it was.
Six days later, he couldn't get up—his legs could no longer support his weight. The vet confirmed that severe arthritis had rendered his legs useless and his liver was failing. As Copper's "health care power of attorney," we knew we must do the right thing.
We said our goodbyes with hugs, tears and thanks for being the best dog ever! We miss you Copper and while your loss is so very hard, our family will treasure the years you spent with us.
Related Posts
Comments
About the Author
health enews staff is a group of experienced writers from our Advocate Health Care and Aurora Health Care sites, which also includes freelance or intern writers.