The 411 on school physicals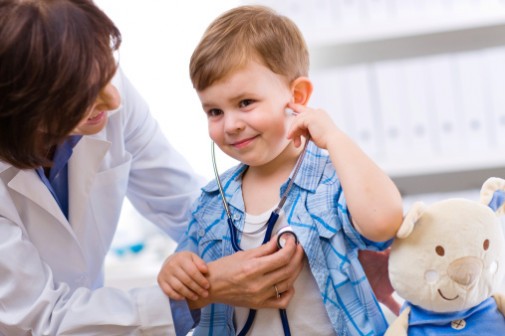 Summer is speeding by with schools almost back in session. Have you scheduled your child's physical yet?
Health enews checked in with Dr. David Farnsworth, pediatrician with Advocate Medical Group, to get the 411 on physicals and immunizations.
Why are school physicals so important?
For schools, it is a requirement for students to have their physicals and immunizations. It is for the safety and general health of the public.
Physicals are also an important chance for parents to check how growth is going and for any developmental milestones. Your physician will also look for any changing social and emotional issues, cues that could hinder performance in school and stable health. Kids are changing all the time and we want to be sure they are on the correct pace.
What are the main tests and screenings done at a physical?
For kids going into preschool or kindergarten, the physician will test for anemia and lead levels. Tuberculosis (TB) skin tests are no longer required but are strongly recommended. We look for those who have high risk factors for TB, such as family history or who have been in close contact with someone with TB.
The American Academy of Pediatrics recommends testing cholesterol levels. School physical forms also require a screening for diabetes. With this screening, we look for risk factors for Type 2 diabetes, high body mass index (BMI) family history.
A dental and eye examination are also required prior to starting school.
What immunizations are required at the different grade levels?
In kindergarten, kids are given their final boosters for measles/bumps/rubella, Hib vaccine, the DPT (diphtheria, pertussis (whooping cough) and tetanus), polio, Hepatitis B and the Varicella vaccine (chicken pox).In 6th grade, we recommend a booster on whooping cough and the meningitis vaccine. We will talk about the HPV vaccine as an option, but it is not required.
Is there a window of time for immunizations to be completed?
For the kindergarten boosters and immunizations children have roughly until their fourth birthday and for the sixth grade shots, the recommended age to be completed is 10 to 11.
By the time a child reaches ninth grade they should have all of their required immunizations. If they do not, they are able to play catch up at that time before entering high school. Most colleges require a meningitis vaccine, also.
When do you recommend parents make their appointments?
I recommend as early as possible. First, you will want to check with your child's school on their time restrictions. Sports physicals can also have a particular time frame for completion.
Give yourself enough time to schedule your child's appointment so that you have more options of time slots and can check it off your list of things to do this summer. Note that the busiest months are generally August and September.
For a complete list of the Illinois Physical and Immunization Requirements, click here.
Related Posts
Comments
About the Author
Sarah Scroggins, health enews contributor, is the director of social media at Advocate Aurora Health. She has a BA and MA in Communications. When not on social media, she loves reading a good book (or audiobook), watching the latest Netflix series and teaching a college night class.