Getting motivated to start a workout routine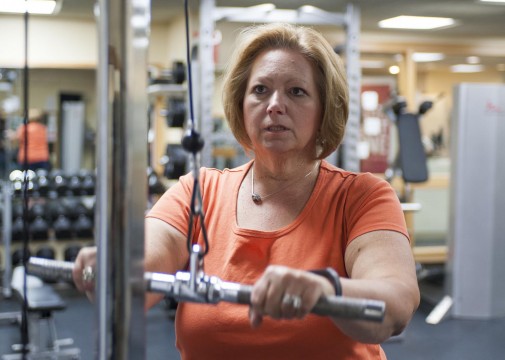 I used to hate exercising. I had so many reasons/excuses to not consistently workout:
I get winded too easily.
I am too tired when I come home from work.
I don't want anyone to see me workout.
My knees hurt.
It's boring.
I'm sure I could come up with twenty other excuses if I try hard enough and I bet a lot of you have the same reasons.
If you've been following my blog, you'll know I've been on the Advocate Weight Management Program for about 18 weeks now. I am down 46 pounds. They tell me to add a disclaimer at this point saying results not typical. This is the first successful program I have stayed on and have seen consistent results.
To make it work I've had to do six things: follow the eating plan, drink all of my water for the day, keep accurate records, get adequate sleep, stay accountable and exercise. When I follow that recipe for success, it works well.
About a month into the program, you start to realize you have to start moving. With the weight coming off, my body is getting lumpy, bumpy and jiggly. I'm sure that's more information than you need, but that is my motivation to get into a workout routine. At my young age of 59 and a half I am not ready to look my age-wrinkles are not in my plans yet.
I started out just by moving more-just taking a walk around the block. Yes, I was winded and my back and knees hurt, but I kept trying to push a little more every time.
After I realized I would need to increase my activity, I bought a FitBit and started tracking my steps every day – starting out to reach 6,500 steps. I have a very sedentary job and sit in lots of meetings, so that meant I had to walk about one to one and a half miles at night. Sometimes I didn't make it. Sometimes I didn't want to walk.
Thankfully I have a very supportive husband who would coax me into at least walking around the block with the dog rather than do nothing and we would end up walking further. On weeknights and weekends I no longer sat around watching TV – my closets are cleaner than ever and my garden looks fabulous! I just wanted to keep moving.
Then I took all the clothes off my Tony Little Glider, Total Gym and my stationery bicycle – they were being used as extra hangers in our spare bedroom. After I wiped all the dust off, I would use them in 10 – 15 minute spurts just to keep moving.
With the help of Michael Heidkamp, exercise physiologist with the Advocate Weight Management Program, over the next months I increased the steps slowly to 7,500 then 8,500 and now am pretty consistently over 10,000 steps a day. Now I take a 2.5 mile walk and I don't get winded, then come home and get on my glider or bike just to get over my goal. I can't stand it if I'm 500 steps short.
On the weekends my husband and I do a four mile walk round trip to Starbucks in the morning to get my morning jolt of caffeine and to get my steps out of the way. Remember, this is coming from someone who hated to exercise when this all started.
Three months into this journey, I joined the Fitness Center at Advocate Lutheran General Hospital in Park Ridge, Ill. The membership was free for three months along with two personal training sessions because of being in the Weight Management Program. I was a little skeptical I would use it at first. I met with a personal trainer who developed a routine for me that would not only include cardio, but also circuit training with weight machines to help firm and tone my muscles.
I do 10 – 15 minutes on the treadmill to get my heart rate up and then the circuit takes another 20 – 30 minutes. I start with 8 – 10 repetitions for three sets at each machine. Most important is form when doing the exercises. If I couldn't do 10 reps correctly at first, during the third set I would only do eight. In the three to four weeks, I've increased to 12 reps with three sets and have slightly increased the weight.
I look forward to doing this two or three times a week now and also continue my walking most every day. On the days I can't get to the Fitness Center and I need to do weight training, I'll use small free weights or I have plenty of the exercise bands from years of physical therapy after knee replacements and shoulder surgery.
One of the most important things to remember is to "listen to your body." It's ok to take a day off once in a while. It seems like I need a day once a week or so to recharge or if something really is sore and not feeling good when you try to exercise, give it a rest for a day. And here's another disclaimer which will make everyone happy–I am under a physician's care while on this program-not only the physician managing the program but also my primary care physician.
If you are starting an exercise program, check with your physician to make sure you are able to regularly exercise. All I know is, now I am not bored, nor too tired and really don't care who sees me working out. I am doing this for me and it's going to help me reach my goal of going into my sixties in a much healthier shape than I could ever imagine.
Every month I get questions about this program. Get more details here.
Related Posts
Comments
About the Author
Debi Jordan, health enews contributor, is senior account rep for the Advocate Health Care Media Center. She is sharing her weight loss journey.