Kid's lunches set tone for performance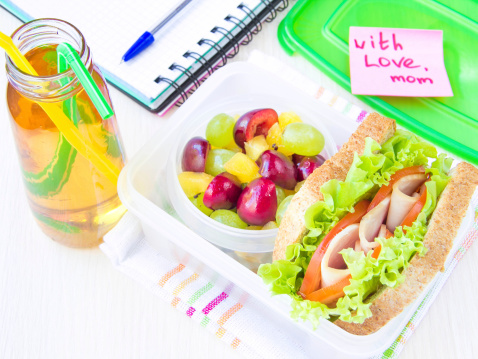 Nancy Blackmer was grocery shopping recently when she noticed a boxed lunch for children that contained about 800 milligrams of sodium.
The clinical dietician at Advocate Sherman Hospital in Elgin, Ill., was surprised by the high amount of sodium considering a low-sodium diet for adults includes around 2,000 milligrams for an entire day. Children who eat the high-sodium lunch would most likely surpass their daily limit in one sitting.
"If kids eat badly when they are little, they are going to be prone to health problems when they get older," Blackmer says. "Children need to establish good habits when they are younger to carry with them the rest of their lives."
It's back-to-school time, and besides getting children to and from school each day, parents also have to deal with shopping for lunches, a task that could prove the difference between an energetic student or a lackluster student.
"It's like putting premium gasoline in your car," Blackmer says. "Your body is the same way; you have to fuel it well for it to run efficiently."
Healthy eating means better performance
According to the Centers for Disease Control and Prevention, academic achievement is strongly linked to healthy eating habits.  That includes lower grades among some students whose diets lack specific foods, such as fruits or dairy products, as well as children who are hungry.
An unhealthy diet or lack of food can also lead to higher rates of absenteeism, repeating a grade and an inability to focus, according to the CDC.
A healthy lunch for students starts with lean proteins, fruits, vegetables, whole grains and dairy products, Blackmer says. The meal doesn't have to contain all items, but at least three to encourage healthy eating habits.
As for the drink, including water, milk or 100 percent juices are healthy alternatives to soda or sugar-based drinks.
Mix things up
Variety is also important, even when it comes down to how the food is packaged."Don't be afraid to use cute containers, or foods that come in shapes," she says. "The important thing is to develop healthy habits even before they are school-aged because when they get older, some habits will already be ingrained."
A mistake commonly made by parents is packing lunches that are convenient to make, which could include potato chips or junk foods.
"Convenience isn't always better," Blackmer cautions. "Unhealthy foods are empty calories and don't stay with a child. In school, you need brain power. You need energy to stay awake and focused."
Including an unhealthy snack in the lunch is acceptable, Blackmer adds, but shouldn't be an everyday occurrence.
"It's not that you can't have the occasional cookie or something like that," she says. "Just make it a sometimes thing, not an always thing."
Related Posts
Comments
About the Author
health enews staff is a group of experienced writers from our Advocate Aurora Health sites, which also includes freelance or intern writers.