Starting school later could help teens get more sleep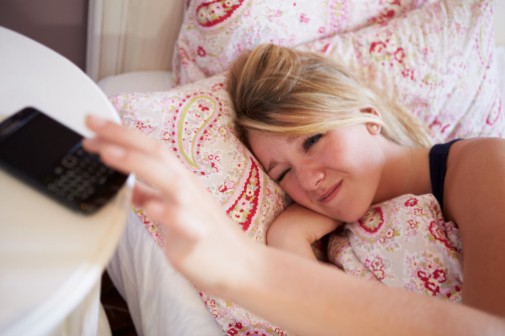 For teens, 10 a.m., noon or even 2 p.m. might be the perfect time to wake up, which makes getting up for school before sunrise practically impossible. According to the American Academy of Pediatrics (AAP), having teens waking up so early is not good for their health due to being biologically wired more like night owls than early birds.
In a statement released earlier this week, the AAP recommends middle and high schools delay the start of class to 8:30 a.m. or later. Doing so will align school schedules to the biological sleep rhythms of adolescents, whose sleep-wake cycles begin to shift up to two hours later at the start of puberty.
According to an AAP press release, 40 percent of high schools in the United States start before 8 a.m. and only 15 percent start after 8:30 a.m. Middle schools start early as well, with 20 percent starting before 7:45 a.m. With such early start times, it's no surprise that 59 percent of middle school students and 87 percent of high school students are getting less than the recommended 8.5 to 9.5 hours of sleep per night, according to a survey by the National Sleep Foundation.
"The research is clear that adolescents who get enough sleep have a reduced risk of being overweight or suffering depression, are less likely to be involved in automobile accidents, and have better grades, higher standardized test scores and an overall better quality of life," said Dr. Judith Owens, MD, FAAP, lead author of the AAP's statement. "Studies have shown that delaying early school start times is one key factor that can help adolescents get the sleep they need to grow and learn."
Teens are often sleep deprived due to their busy schedules which include work, sports, extracurricular activities and homework. With all of these activities, getting enough sleep can be challenging. After all, for teens who wake up at 6 a.m, getting adequate sleep would mean going to bed at 9:30 p.m.
To help teens fall asleep quickly, Herando Jaramillo, sleep lab supervisor at Advocate Good Samaritan Hospital in Downers Grove, Ill., recommends they practice good sleep hygiene. This means that teens should stick with a consistent bedtime, sleep in their bed rather than falling asleep on a couch and avoid using their cell phones while they are trying to fall asleep. He also recommends avoiding caffeine and exercise before bed.
While getting enough sleep can be difficult, teens should make an effort to do so in order to stay healthy and perform their best in school.
Related Posts
Comments
About the Author
health enews staff is a group of experienced writers from our Advocate Aurora Health sites, which also includes freelance or intern writers.