Healthy beverage tips that won't hurt your waistline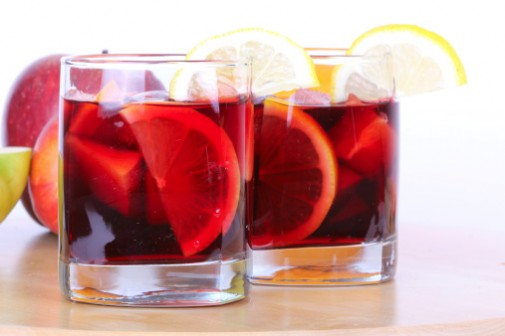 It's the end of summer, and people are squeezing in barbeques, parties and other gatherings. And with those, come lots of food and drinks, including the alcoholic ones.
Michelle Remkus, dietitian at Advocate Good Samaritan Health and Wellness Center in Downers Grove, Ill., says you can still go out and have fun without consuming thousands of calories in your alcoholic beverages.
If you are trying to cut down on preservatives and a sugary diet, cutting down on drinks can make a difference.
Remkus says that you may be unaware to hear about the calories in alcohol.
"You may be surprised to hear alcohol is very calorically dense," Remkus says. "In fact, per gram, alcohol has almost the same amount of calories as fat!  There are 7 calories per gram in alcohol and 9 calories per gram in fat."
You might order a liquored drink thinking that you are consuming fewer calories than beer, but that sugary 'Dirty Shirley' has more calories than you think, she says.
Instead of ordering sugary mixers, you can order your drink with tonic water, seltzer water and club soda. Cut out syrups such as Grenadine and substitute with real fruit.
"You can also ask for real lime or lemon wedge to compliment the drink and add a kick of flavor," Remkus says.
Another option is just substituting your mixer with just water, she says. You can add lemon or limes, or add a Crystal Light packet to a homemade drink. These packets contain about 10 calories, and also give a variety of flavors.
If you dislike those options but still crave that carbonated taste you can ask for diet soda instead of regular.
"Limit yourself to only one shot per drink," Remkus says.  "Many mixed drinks have 2-3 shots meaning 2-3 the amount of calories. A rum and diet with only one shot is only 75 calories.  But drinking one with 3 shots makes it 225 calories!"
Use all natural ingredients for pops of flavor and color. Alcohol contains "empty calories" and in itself does not contain any nutritional value, according to Remkus.
Popular summertime drinks are Mimosas, Bellinis and Sangria. Substituting artificial fruit juices with fresh squeezed juices and fruit wedges can add flavor and benefits to your beverage. Cut up different fruits and add them to your Sangria for natural flavor and color, she says.
Although wine is overall low in calories, champagne has even fewer calories, Remkus says. Drinking a Mimosa with all natural 100 percent orange juice can be tasty and better for you.
"Make sure you are reading labels and look at nutritional charts for juices that do not add sugar, and contain all natural ingredients," Remkus says.
Kelly Fitzpatrick has a list of new drinks to try on her blog. Try some of these all natural recipes to spice up your night:
Bloody Mary
Start with about a cup of no sugar-added, low-sodium tomato juice and squeeze half a lemon, a dash each of hot sauce and Worcestershire sauce, fresh ground pepper to taste, and one shot of vodka. Garnish with a lemon wedge and celery stick. Another healthy additive is shrimp.
Rosemary-Cucumber Lemonade
Squeeze three lemons and stir with one teaspoon honey. Add one shot rosemary-infused vodka and about a cup of seltzer water. Garnish with a cucumber spear and lemon wedge.
Avoid energy drinks whenever possible, Remkus says, as these are not only unhealthy but contain lots of sugar and calories.
Not a fan of liquor?
If you like to enjoy a glass of wine, you do not have to cut it out of your diet. Overall, wine is low in calories and can provide some benefits to your health, she says.
"Do not be fooled by wine coolers, as they contain high levels of sugar and calories," Remkus says. "If you are craving a fruity fix, add slices of fruit for a wine spritzer."
Lighter beer is always an option. Beers of lighter color is a good indication of an overall lighter beverage. Try beers made from whole grains and wheat for a healthier alternative. You can also opt for gluten-free beverages.
Related Posts
Comments
About the Author
health enews staff is a group of experienced writers from our Advocate Aurora Health sites, which also includes freelance or intern writers.