September: A dangerous month for young pedestrians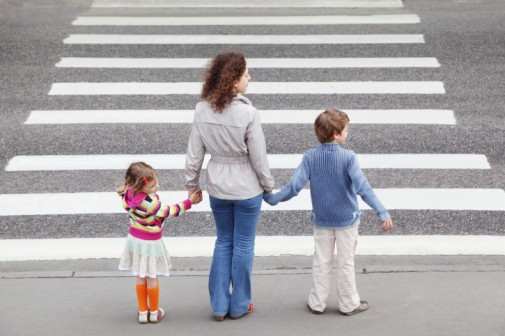 On average, a pedestrian is hit every eight minutes, according to the U.S. Department of Transportation. And in September, more children are hit by cars than in any other month during the year.
Experts say one reason for this spike is due to kids going back to school, creating high volume population in school zones, where there is a dramatic decrease in speed limits which are not always observed by drivers.
According to the latest transportation statistics, one average more than 4,200 pedestrians were killed in traffic crashes in the United States, and another 70,000 were injured during this month. Emergency physicians treat tens of thousands of patients each year injured by motor vehicles while walking.
Vanderbilt University Medical Center officials offer a few reminders. They say to teach children to make eye contact with drivers before they step into the road. In addition, they should stay alert at all time; removing headphones and making sure they are not looking down at their smart phones while crossing the street.
With pedestrians being 1.5 times more likely than drivers to be killed in a car crash on each trip, it unfortunately puts the onus on the walker instead of the driver. Forty percent of all under the age of 16 pedestrian fatalities occurred between 3 p.m. and 7 p.m., according to the National Highway Traffic Safety Administration. At times, alcohol played a factor in the incidents as well.
"Drinking responsibly has everything to do with the amount of consumption and accountability. If you drink alcohol, it is best to do so in moderation keeping in mind that excess can impair your ability," says Roxanne Spurlark, manager of clinical operations in the emergency department at Advocate Trinity Hospital in Chicago. "Drinking and being behind the wheel can have some dangerous effects and can cause many types of accidents."
Drivers need to be mindful of school zones and always focus on the task of driving. When approaching stop signs, crosswalks and intersections, drivers need to be on high alert for children walking to school. Never stop with any part of your car over a crosswalk because that action forces pedestrians into danger zones as they walk around your car.
For parents, Vanderbilt experts advise them to evaluate whether their child is mature enough and ready to walk to school without an adult present. If they decided their child is prepared to take that next step, they suggest mapping out a safe route where trained adult crossing guards will be present at every intersection.
They also say that parents should walk that route with their youngster as a practice run to see where the unsafe spots may appear. Children should know all pedestrian safety rules and have bright colors and reflective material for clothing and backpacks, according to the news release.
The American College of Emergency Physicians also recommend the following tips to prevent injury and even death:
Use sidewalks. Know and obey safety rule.
Cross only at intersections and crosswalks.
Look left, right, and left again for traffic before stepping off the curb.
See and be seen.
Closely watch children and teach them the safety rules.
Related Posts
Comments
About the Author
health enews staff is a group of experienced writers from our Advocate Aurora Health sites, which also includes freelance or intern writers.