Coping with a life-threatening medical diagnosis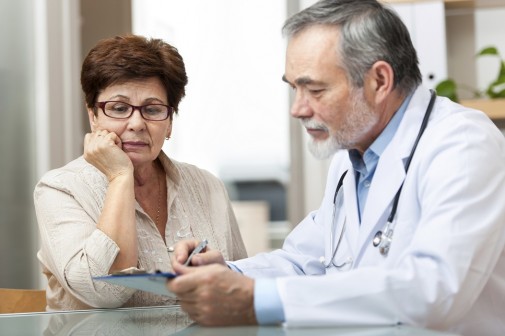 The Aug. 11 news that Robin Williams had committed suicide shocked and saddened a nation used to seeing only joy from the 63-year-old actor. And his widow's revelation on the heels of the reports that he'd recently been diagnosed with Parkinson's disease caused further discussion and speculation on just what led the popular actor to such a tragic end.
An acute or chronic illness diagnosis, particularly for illnesses that may be life-threatening or life-limiting such as Parkinson's disease or Alzheimer's, can lead to what are known as the five stages of grief. These are the stages first identified in 1969 by Dr. Elizabeth Kubler-Ross' book On Death and Dying, says Dr. Shastri Swaminathan, psychiatrist with Advocate Illinois Masonic Medical Center in Chicago.
In the face of a major medical illness, everything we know shows that patients go through the same five stages: denial, anger, bargaining, depression and, eventually, acceptance," Dr. Swaminathan says. "Any intervention by a medical professional should be pertinent to the stage the patient is in."
For instance, if a physician thinks that a patient is in denial upon hearing the news of a late-stage cancer diagnosis, she will often wait to discuss the ramifications and treatment options, as the patient will likely not fully hear or accept the advice.
"The difficulty with Robin Williams' case is that he was already, reportedly, dealing with long-term depression," he says. "And, being an actor and comedian, he was so invested in how he looked and acted, I can only imagine that the news of Parkinson's disease would have been very debilitating for him."
For most, hearing of a chronic or life-threatening condition is different. Although the impact is life-changing, their lives aren't on public display, as it was in Williams' case, says Dr. Swaminathan. Most important at the time of diagnosis, he says, is to have a strong support network—family and friends who can listen and help, as needed, through the long journey ahead.
"It's extremely important that anyone who has been diagnosed with a life-threatening condition reach out to those who are closest to them," Dr. Swaminathan says. "And, if necessary, to a therapist or other professional who can help deal with the consequences and feelings that will come."
He says the risk of severe depression and possible thoughts of suicide often occur later in the illness, when the reality of the situation and possible hopelessness has set in and medical treatments may have run their course. Often, family and friends may expect some depression, they but should be on the lookout for deepening feelings that may be "out of proportion" with the situation, says Dr. Swaminathan.
"People move back and forth through the five stages—there's not linear progression," he says. "Even if someone seems to have accepted their situation and illness, they may still be deeply depressed by it."
He recommends connecting with support groups in the community, in which patients can freely share the feelings they're having surrounding their conditions. Family and friends may also find the support groups and resources extremely beneficial, he says.
Above all, Dr. Swaminathan says a life-threatening diagnosis should be dealt with calmly and rationally, with clear communication with your medical team. For most conditions, there are options early on that can improve the quality of life for the patient, if not provide a cure.
"There will be good days and there will be bad," Dr. Swaminathan says. "When first confronted by a particularly frightening diagnosis, it's important to hang onto hope."
Related Posts
Comments
About the Author
health enews staff is a group of experienced writers from our Advocate Aurora Health sites, which also includes freelance or intern writers.