I ran it and I will run it again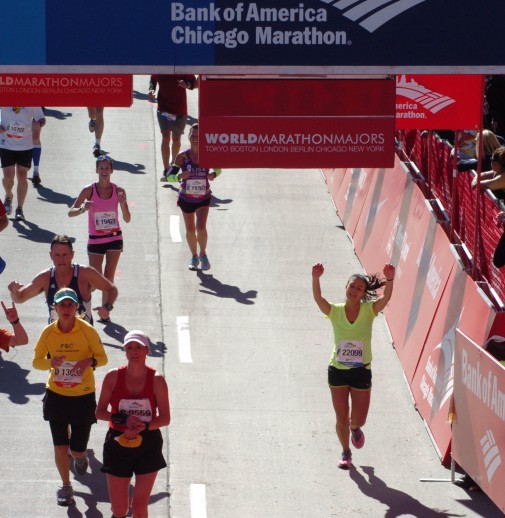 Shortly after signing up for the 2013 Chicago Marathon, I began to wonder what I had gotten myself into. I struggled to fall asleep as I anticipated my first long run the following morning.
Even though I have been running for years, millions of doubts went through my head. What if I can't finish? What if I have to walk? What if I get hurt? What if my time is bad?
The next morning I went out and my feet hit the pavement. As the distance grew longer — 13, 14, 15, 16, 17, 18, 19 and 20 miles — the thoughts of fear, doubt and failure were pushed out and replaced by confidence and an intense desire to compete.
As I continued training on those hot Chicago summer mornings, there were countless times when I was out of breath, dripping with sweat and wondering how I was going to finish my run. There were miles where I just wanted to quit. But, deep down, I knew that as long as my feet kept moving, I would keep going.
After each run I would collapse on my cool kitchen floor, forcing myself to rehydrate while I caught my breath and reminded myself that I had seven days until I had to do another long run. Yet I was committed to those long runs. I skipped Friday night dinner with friends so that I could cook myself a healthy meal and was the first one to leave Friday night get-togethers to get enough rest for my 6 am Saturday long runs along Chicago's Lakefront Trail.
Running the Chicago Marathon meant so much more than just putting one foot in front of the other for nearly four hours. It was about challenging myself and competing in a way that I had not done in years. As a child I thrived on competition, whether it was a game of tag at recess or a soccer game in a city across the country.
The marathon was also about facing my fears. The week before the marathon, I was a bundle of nerves. I could not stop thinking about what would happen if I could not make it to the finish line.
On the morning of the marathon, I joined the thousands of people converged at Grant Park. We would never speak to each other, yet we had a common bond.
I was practically shaking as I waited in the start corral. Crowds of people lined the streets of Chicago cheering and waving posters. They were my entertainment, my amusement and my distraction as I jogged along the streets. The first five, 10 and even 15 miles flew by as I ran next to skyscrapers, past the Lincoln Park Zoo, down deserted streets near the United Center, through Greektown, into Little Italy and through neighborhoods I had never visited.
But as the crowds began to thin out, the race got tough.  My legs began to burn and I could barely think straight; my legs were on autopilot. Then in the midst of a semi-deserted street, near Mile 22, I heard someone scream "Camille!" It was my parents surprising me by showing up at that point in the race. It was like they knew that at that moment I would need a boost. That's when I knew I could finish.
As I crossed the finish line, I was in a state of shock; I was exhausted; I could not run one more step, but I had accomplished my goal and that was the best feeling in the world. It was at that moment I knew that all the sacrifices I had made over the summer, the early morning runs and the previous three hours and 47 minutes were worth it.
It was then that I knew: someday I need to do it all again.
Are you running the Chicago Marathon this year?
Related Posts
Comments
About the Author
health enews staff is a group of experienced writers from our Advocate Aurora Health sites, which also includes freelance or intern writers.