Acupuncture offering relief to breast cancer patients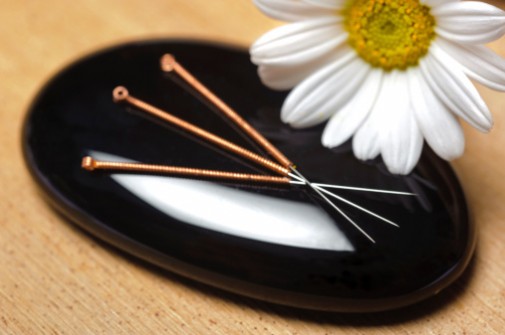 A form of acupuncture may prove to be a more natural way of easing the side effects of a drug prescribed primarily for treatment of post-menopausal breast cancer patients.
Women taking the drug — aromatase inhibitors — showed substantial moderation of side effects like fatigue, anxiety and depression after undergoing electroacupuncture, according to researchers at the University of Pennsylvania.
Electroacupuncture, an enhancement of traditional acupuncture treatment, involves use of a device that passes an electric current between hair-thin needles, which are placed directly in the skin.
The report, published online in the journal, Cancer, builds on a 2013 study by the same researchers who concluded that electroacupuncture could reduce joint pain in those breast cancer patients taking aromatase inhibitors. The follow-up study was undertaken to find a single treatment that would not just treat joint pain, but also other common side effects of the medication.
Study authors conducted an eight-week trial with 67 breast cancer patients to observe the effects of the treatment on joint pain, fatigue, anxiety, depression and sleep disturbance. Patients were assigned randomly to one of three treatment groups. One group underwent actual electroacupuncture; patients in the other groups either received a placebo treatment or no treatment at all. Participants in all three groups were evaluated prior to and during the study and at four weeks following conclusion of the trial.
Comparing the results of all three patient groups, researchers reported finding that electroacupuncture produced sizeable improvements in reducing side effects of the drug after measuring participants for their levels of  fatigue, anxiety and depression. Sleep disturbance was the only side effect not seemingly affected by the acupuncture treatment.
"Our study provides a novel understanding of how fatigue, sleep and psychological distress relate to pain in patients with AI-related joint pain. More importantly, we found that acupuncture helped reduce these symptoms and the effects persisted for at least four weeks following treatment," said lead author Dr. Jun Mao, of Penn's Perelman School of Medicine, in a statement.
Patrice Stephens, advanced practice nurse and breast health navigator at Advocate Christ Medical Center in Oak Lawn, Ill., says a number of natural alternatives are available to help reduce high anxiety that patients may develop after receiving a cancer diagnosis or experiencing a side effect from treatment. Support groups, fitness classes and art workshops designed specifically for cancer patients are a few of those options.
"Every breast cancer patient who visits our multidisciplinary clinic receives an individual plan that includes recommendations for treating the mind and body throughout their treatment," Stephens says. "Patients are encouraged to attend cancer networking groups and participate in therapeutic activities like Tai-Chi or Zumba to improve their mental and physical state."
Gilda's Club Chicago in Christ Medical Center's Outpatient Pavilion offers a wide range of activities from drumming circle classes to yoga classes that promote the health and well-being of the patient and their entire family. Click here for a listing of August activities in Oak Lawn.
Related Posts
Comments
About the Author
Julie Nakis, health enews contributor, is manager of public affairs at Advocate Children's Hospital. She earned her BA in communications from the University of Iowa – Go Hawkeyes! In her free time, she enjoys spending time with friends and family, exploring the city and cheering on the Chicago Cubs and Blackhawks.