Hospice and palliative care: What's the difference?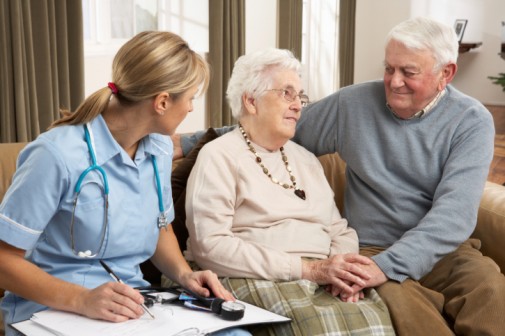 If you've ever had a loved one with cancer or another serious or life-threatening condition, hospice and palliative care are terms you may have heard. But many people are confused about what these terms actually mean. Are hospice and palliative care the same thing? Will they be painful? Do they mean your loved one is dying?
"Health systems across the nation are expanding their hospice and palliative care services, and are implementing programs built on evidence-based practices," says Dr. Julie Goldstein, internal medicine physician at Advocate Illinois Masonic Medical Center in Chicago.
The use of hospice and palliative care services continues to increase. According to the American Hospital Association, as of 2012 there were more than 1,600 palliative care programs operating in the United States.
Despite the transformation in the way we use hospice and palliative care services, Dr. Goldstein says there has always been one underlying goal: To provide comfort and improve quality of life for people facing serious or life-threatening conditions.
"Hospice and palliation are established as part of the patient's care plan to provide comfort and support to the patient and his or her family during a difficult time," says Dr. Goldstein.
Hospice vs. palliative care
Although hospice and palliative care have similar underlying principles, Dr. Goldstein points out a few key differences that are important to understanding when considering comfort care:
Hospice care:
Is support-based, not curative
Is commonly used in end-of-life care for people with terminal illnesses
Usually takes place in a person's home—often a private residence or long-term care facility
Is typically delivered during the weeks and months before a person's death
Palliative care:
Is used for people with diverse health conditions, undergoing curative or life-prolonging treatments
Focuses on providing comfort through the duration of a person's treatment plan
Comfort Care for people with cancer
According to the National Hospice and Palliative Care Organization (NHPCO), roughly 1.6 million U.S. people received hospice services in 2012. While cancer used to be the most predominant source of referrals to hospice, people with cancer now account for less than half of all hospice admissions. The NHPCO reports that in 2012, 37 percent of hospice admissions were for people with cancer.
"People diagnosed with cancer are living longer due to advances in cancer treatment," says Dr. Ann Mauer, a medical oncologist at Advocate Illinois Masonic's Angelo P. Creticos, MD, Cancer Center. "And those receiving curative or life-prolonging treatments are not candidates for hospice care."
This is where the use of palliative care is more appropriate, Dr. Mauer says. For people with cancer, palliative care can begin at the same time as curative or life-prolonging treatment, such as chemotherapy.
"During palliative care, a multidisciplinary team of physicians, nurses, therapists, social workers, spiritual counselors and others comes together to develop an individualized care plan that is the most beneficial for the patient," says Dr. Mauer. "Providing comfort and support to the patient and his or her family improves quality of life and ultimately creates an environment conducive to the healing process."
Related Posts
Comments
About the Author
health enews staff is a group of experienced writers from our Advocate Health Care and Aurora Health Care sites, which also includes freelance or intern writers.