Eating breakfast helps teens keep obesity in check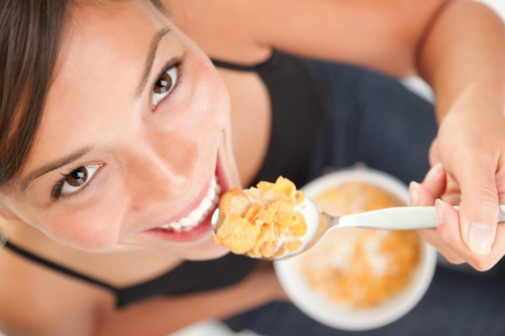 Many teens just do not eat breakfast. They stay up late the night before and try to get a few extra Z's in the morning by hitting the snooze button. Then they rush out the door to make it to school on time—and in way too much of a hurry to stop to eat.
"This is an unfortunate habit that often stays into adulthood," says Carrie Ek, registered dietitian at Advocate Children's Hospital in Park Ridge, Ill. "Nutrition, even just eating is often low on the list of priorities for teens."
When you think of skipping meals, logic would indicate that since you're not eating, you're saving on calories and not likely to gain weight. Ironically, when teens skip an all-important meal such as breakfast, the reverse effect of weight gain is set in motion, which can snowball into other health problems, according to new research.
The study revealed that when young adults eat breakfast, especially protein-rich meals, they get a rush of the chemical dopamine, which is connected to the brain's reward area. Dopamine controls impulses, and this in turn causes food cravings and overeating to decrease.
"Our research showed that people experience a dramatic decline in cravings for sweet foods when they eat breakfast," said study co-author Prof. Heather Leidy in a statement. "However, breakfasts that are high in protein also reduced cravings for savory—or high-fat—foods. On the other hand, if breakfast is skipped, these cravings continue to rise throughout the day," added Leidy, assistant professor of nutrition and exercise physiology at the University of Missouri in Columbia.
In the study, published in the Nutrition Journal late this summer, researchers examined a small group of young 19-year-old women, on average, over the course of a week. Participants ate breakfast meals with either 13g of protein, 35g of protein or had no breakfast at all.
Since the reward response is an important part of eating because it regulates food, said Leidy, the team measured the effects of different breakfasts on dopamine levels.
"Dopamine levels are blunted in individuals who are overweight or obese, which means that it takes much more stimulation—or food—to elicit feelings of reward. We saw similar responses within breakfast-skippers," explained Leidy.
Ek says there are ways to make it easier for teens (along with parents) to get breakfast in, and the process doesn't have to be long and drawn out. Fifteen minutes should do it.
"Some people find it helpful to lay out the food the night before. Quick things such as yogurt, cereal, milk, fruit, even protein bars and peanut butter on toast are all easy to put together in the morning. It does not have to be a big hot breakfast," she says.
Related Posts
Comments
About the Author
health enews staff is a group of experienced writers from our Advocate Aurora Health sites, which also includes freelance or intern writers.