In my chemo shoes, I am indestructible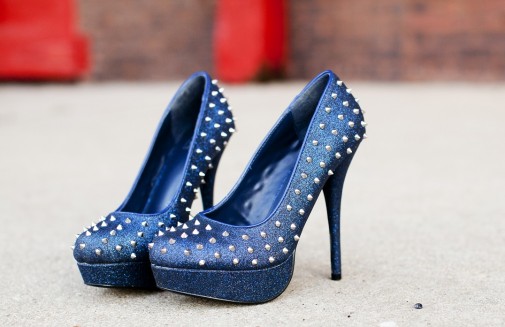 It was the first day of chemo and, as expected, I was a little anxious. I didn't know what it was going to feel like…what I would feel like. Was I going to get sick? Was it going to hurt? I mean, I had never had chemo before so of course I had convinced myself it was going to feel like acid flowing through my veins. Not to mention my intense fear of needles.
Looking back, I think it's safe to say I was scared. Really scared.
When we showed up at the Creticos Cancer Center at Advocate Illinois Masonic Medical Center, we were quite the sight. There were four of us, all with several bags packed full of snacks and games and cozy things. And, of course, Starbucks. They called us into the infusion room and they so graciously let us take up half the place. I sat there waiting for what I knew was my impending doom.
As it got closer and closer, I felt like my chest was going to cave in. I couldn't decide if I wanted to run away or tell them to hurry it up so I could get it over with. Finally it started. I squeezed my eyes shut waiting for that intense pain I had dreamt up in my head. But nothing.
As I sat there waiting for the pain to start—because there was no way this was going to be painless—my best friend, Sidne, pulled a wrapped box out of her bag and handed it to me. A present?!  For me?! I never thought about the idea of getting presents for starting chemo. Had I known this little fact, I may not have been so anxious.
I immediately opened the box and inside were sparkly, blue, spiky, high heel shoes. And when I say spiky, I mean it. Those things were dangerous. I immediately put them on, and from that moment forward, those became my chemo shoes.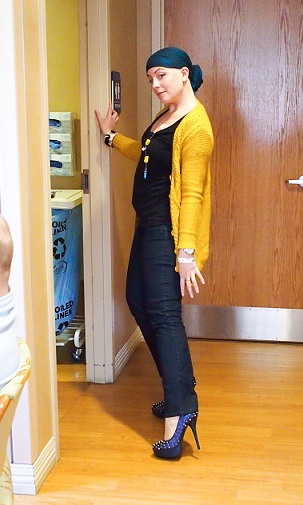 I wore them to every single treatment because those shoes could kick some serious a$$. Before long my chemo shoes became the talk of the cancer center, but above everything else they were my little piece of happiness. They were the one thing I looked forward to on every chemo day. Because in those shoes I was indestructible. I knew those shoes were going to kick cancer's butt, and that is exactly what they did.
I know that everyone is facing something scary. Something unknown that makes you want to run full-speed in the other direction. But I believe that we all have a pair of chemo shoes somewhere inside us. That little something that makes you feel like you can do anything. That, no matter what, you've got this.
I think sometimes those shoes get buried in the back of the closet and forgotten about all together. But what if you took just a little extra time to dig them out, brush them off and put them on? You could be unstoppable.
So the next time you've convinced yourself that something is too big or too scary—that pain is inevitable—put on those blue, spiky heels. Because I promise you, I'm living proof that in the right pair of shoes, you really can do anything.
Lauren Wakefield is a photographer who lives in Chicago with her husband Gary. She was diagnosed with breast cancer at age 26. She and her friend Sidne Hirsch—the one who bought her the chemo shoes—recently launched a new project called Healing Heels, a line of kick-ass shoes for women fighting cancer.
Related Posts
Comments
About the Author
Lauren Truelock is a photographer who lives in Indianapolis with her husband, Gary. She was diagnosed with breast cancer at the age of 26. She and her best friend, Sidne Hirsch - the one who bought her the chemo shoes - run a company called Healing Heels, a line of kick ass shoes for women fighting cancer.