Telehealth technology on the rise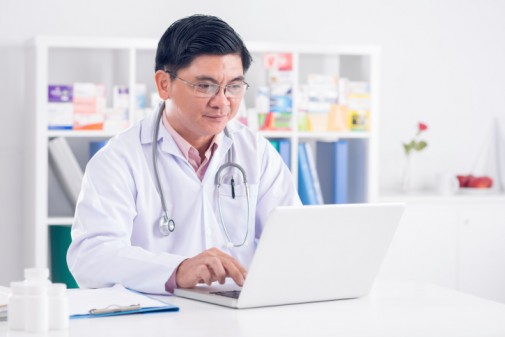 Nowadays, Google seems to be everywhere – in our pockets, on our wrists and even in our dictionaries. But soon, users may be turning to the search engine for one more thing: face-to-face conversations with their doctors.
The search engine giant is currently in the testing phase of a service that would connect users to video conferences with specialists in their area, all from their web browsers.  This would allow patients to interact with doctors without even having to leave their homes, making access to medical advice easier and more accessible.
The new program is an extension of Google's "Helpouts" feature, where users can receive real time help over video to accomplish a task, like playing a guitar chord or learning a new language.
The service was uncovered earlier this week when a Reddit user noticed that after he searched on Google for knee pain, an option was available to speak with a local doctor in real time that hadn't been available in previous searches.  After his discovery made it onto the web, Google confirmed the existence of the new feature to technology news site Gizmodo.
"When you're searching for basic health information – from conditions like insomnia to food poising – our goal is to provide you with the most helpful information available," a Google spokesperson said in a statement given to Gizmodo. "We're trying this new feature to see if it is useful to people."
Google's decision to move into the telehealth space is just another in a long line of initiatives from Silicon Valley companies and healthcare professionals alike to use technology to bring doctors and patients together, using everything from apps to other health tracking software.
Earlier this month, Advocate Health Care introduced its own telehealth program designed to give psychiatrists the ability to provide a thorough initial consultation directly to the patient's room – either in the emergency department or on a medical or surgical floor. When a physician sees the need to refer a patient to a psychiatrist, he or she can wheel a specially designed cart to the patient's bedside that will allow that patient to communicate with a behavioral health specialist securely in real time.
According to the co-lead on the project, Dr. Adam Rubinstein, president of the medical staff at Advocate Condell Medical Center in Libertyville, Ill., the project was born out of the severe difficulties in connecting primary care physicians with their counterparts in the behavioral health space in order to provide complete, holistic care for all patients.
"By wheeling a mobile unit into a patient's room, we can bypass the problems that we have with the low number of behavioral health specialists in this country today," Dr. Rubinstein says. "Rather than having to wait weeks or months for care or having to talk over the phone, we are able to give patients access to trained psychiatrists 24 hours a day, 365 days a year."
In order to make this process work, Dr. Rubinstein's team has developed a hub-and-spoke model to facilitate referrals between hospitals. Advocate Christ Medical Center in Oak Lawn, Ill., is a central hub where behavioral health specialists are based. When another hospital needs one of those specialists, they go into a secure room where they can teleconference with both doctors and patients who could be miles away.
Dr. Rubinstein stresses the importance of the availability of psychiatric care – oftentimes, he says, physical illnesses are symptoms of behavioral problems that go undiagnosed or untreated. This new link his team is creating will close that gap, allowing patients to get care for their entire well-being whenever they go to a hospital.
While the Advocate program is decidedly different than Google's, Dr. Rubenstein still sees the desire to make health care as accessible as possible as the core of every telehealth program.
"The reason that Google is setting off with this program is that they have realized that patients want access to care where they are, not where they have to be," Dr. Rubinstein says. "Advocate is a full-service health organization while Google is a technology company, but the idea between both is the same – to bridge the gap between doctor and patient and make people healthy."
Related Posts
Comments
About the Author
health enews staff is a group of experienced writers from our Advocate Aurora Health sites, which also includes freelance or intern writers.