Getting your child from couch potato to physically fit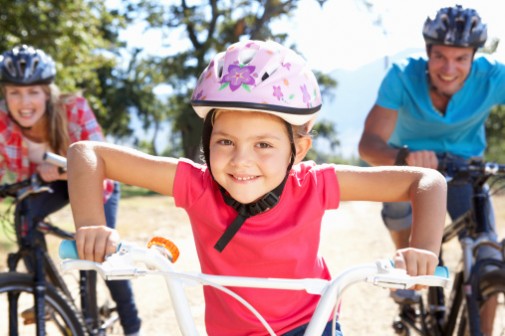 Kids who choose to spend time in front of a screen instead of engaging in some form of physical activity may be putting their health at risk, experts say. A study published in the Journal of the American Medical Association reported that each extra hour of TV a toddler watches can potentially result in a 13 percent unit decrease in physical activity. That same group is also 5 percent more likely to have a high body mass index.
Additionally, in the past 30 years, childhood obesity has more than doubled in children and tripled in adolescents, according to the Centers for Disease Control and Prevention (CDC).
And more than 80 percent of adolescents do not participate in enough aerobic physical activity to meet the national guidelines for youth physical activity, reports the U.S. Department of Health and Human Services.
The lack of physical activity and the growing obesity epidemic in youth can have devastating effects on their health and well-being. The CDC reveals that youth who are obese are more likely to be at higher risk for cardiovascular disease, including high cholesterol and blood pressure, and are at a greater risk for bone and joint problems, sleep apnea and poor self-esteem.
It Starts with You
It's time to get kids moving again. Healthypeople.gov reveals that physical activity in children and adolescents can:
Improve bone health
Lower levels of body fat
Improve cardiorespiratory and muscular fitness
Reduce symptoms of depression
Other benefits include better sleep, weight control, lowered risk of developing Type 2 diabetes and a better outlook on life.
The health benefits are many, which may encourage parents to think about getting their kids more active. But what steps can they take to actually get them going?
Laura Tarry, fitness specialist at Good Samaritan Health and Wellness Center in Downers Grove, Ill., says the key is that parents participate. "The biggest thing is to engage with them. It can't just be you saying, 'You go do.' The parent have to do it as well," she says.
So for example, if you create an obstacle course for the kids to run, have them do it, but parents should do it with them, says Tarry.
If your child is not particularly into sports or athletics, Tarry recommends finding an activity that will get him or her moving and incorporate whatever the child is good at. "So for example, if they love reading, have them read a chapter and then have them do ten jumping jacks. Explain to them that the jumping jacks will help them read faster next time, help them absorb more and wake their brain up," explains Tarry.
Limiting technology time may also prove helpful to encourage children to take homework breaks, as Tarry says it will benefit them in the long run. "It could be as easy as walking up and down the stairs a few times and then having them start homework again. It gives them a mental break and adds activity in," she says.
Types of Exercise
Key elements that Tarry suggests parents focus on when exercising with their child is getting the heart rate up and doing two full-body exercises, like a push-up or a squat. She says, "Strength is just as important as cardiovascular activity, but you need strength to improve cardiovascular fitness."
She also says that the activity does not have to be age-specific. "Generally, older kids are more interested if you use equipment like a medicine ball or a resistance band. And with smaller kids, if you chase them, they'll run."
Meal ticket
Nutrition also plays a role. Tarry says ideally meals should be balanced with protein, good carbohydrates and vegetables. It may help to set up meal "challenges" for kids that have goals to help them get onboard with healthy eating.
"If you set one goal that your child has to have the correct servings of vegetables three times out of the week, and it can be a vegetable they like, then that can be that week's challenge," explains Tarry.
Tarry adds, "The whole family has to do the challenge as a unit."
What Not to Do
For all the things you can do to get your child motivated and willing to exercise, there are a few caveats. "The biggest mistake is forcing them into a workout routine when they resist, forcing them into a routine that's too hard for them or that singles them out as unfit," says Tarry. "If you make it about what the family is doing and less about them, a child will be more willing to participate."
Tarry says that if you can find something that keeps everybody on the same level, it's make it a lot less intimidating and fun.
Related Posts
Comments
About the Author
health enews staff is a group of experienced writers from our Advocate Aurora Health sites, which also includes freelance or intern writers.