3 sleepwalking myths debunked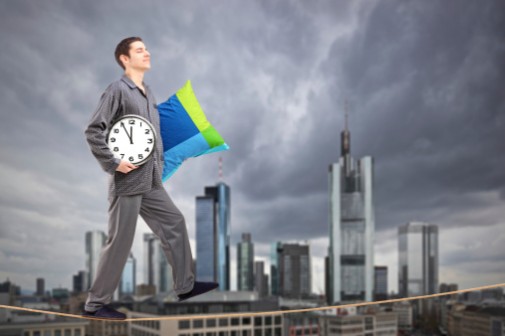 Some of the things you once thought true about sleepwalking may not be, according to a study published recently in The Lancet Neurology journal.
The study, led by University of Montreal professor of psychology Antonio Zadra examined several other studies conducted over the last 15 years at Sacré-Coeur Hospital's Centre for Advanced Studies in Sleep Medicine in Montreal.
Because there are so many misconceptions about sleepwalking, proper diagnosis and management is difficult. Researchers sought to add clarity.
The three sleepwalking myths that the study reportedly dispelled are:
1. Sleepwalkers have no memory of their action.
In children and adolescents, amnesia is more frequent, probably because of neurophysiological reasons. But a high proportion of adult sleepwalkers occasionally remember what they did during their sleepwalking episodes," Zadra says in a statement. "Some even remember what they were thinking and the emotions they felt."
2. Sleepwalkers' behavior is not motivated by anything.
Zadra says based on his research, a significant proportion of sleepwalkers can explain the reasons for their actions: "For example, a man once took his dog that had been sleeping at the foot of his bed to the bathtub to douse it with water. He thought his dog was on fire!"
"There was neither the logic nor the judgment typical of wakefulness," Zadra adds. "But the behavior was not automatic in the sense that a motivation accompanied and explained the action."
3. Sleepwalking has no daytime impact
Zadra reports that nearly 45 percent of sleepwalkers are drowsy during the day. He states that younger sleepwalkers are able to hide it more easily, but compared to people who don't sleepwalk, they performed poorer in alertness tests. "And if given the opportunity to take a nap, they fall asleep faster than normal subjects do," Zadra says.
Other myths surrounding sleepwalking may also need to be clarified as well, such as the idea that you are not supposed to wake someone when they're sleepwalking.
Dr. Raina Gupta, a neurologist and sleep medicine specialist and a member of Advocate Medical Group in Chicago, explains that episodes usually end spontaneously with the person waking up in a different location or even returning to their own bed. "Waking the person from sleep is usually not needed. I would advise the witness to lead the person back to bed and not be frightened," Dr. Gupta says.
"The most important thing to prevent is sleepwalkers injuring themselves or going outside," she adds.
If you think a loved one is a sleepwalker, Dr. Gupta recommends that you talk with your primary care doctor, who can refer that person to a sleep specialist or treatment facility such as an Advocate sleep center if necessary.
Related Posts
Comments
About the Author
health enews staff is a group of experienced writers from our Advocate Aurora Health sites, which also includes freelance or intern writers.