Depression causes two in five to miss work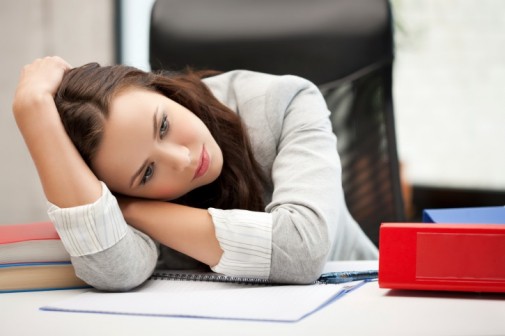 Depression can be an absolutely debilitating illness, sapping energy, accelerating aging and even leaving those afflicted more susceptible to cardiovascular disease.  The effects of the disease extend far beyond the confines of the body though – according to new findings from Employers Health, a national healthcare coalition, depression can have far-reaching effects on not only how effective workers are, but whether or not they work at all.
The study reveals that 23% of respondents to the Impact of Depression at Work Audit reported that they had been diagnosed with depression at some point during their lives, and of that 25%, two in five reported that they had missed work on account of being depressed.  Additionally, the study notes that on the days that depressed workers were even in the workplace, their productivity can be seriously reduced.
"Depression affects not only absenteeism, but also how present patients can be," says Dr. David Leader, medical director of mental health and neuroscience services at Dreyer Medical Clinic. "It's not just about being at the job, but also about what people are doing at their jobs.  Depression doesn't have to be extreme to be taking a toll."
Even more important than the absenteeism caused by depression is the amount of days being taking off: according to the study, a depressed worker will take an average of 10 days off every year due to the disease.  According to the Center for Disease Control and Prevention, this adds up to 200 million lost hours of work over the course of the year, costing employers $17-44 billion dollars annually.
As with any disease, receiving proper care for depression is important.  However, Dr. Leader notes that the stigmas surrounding depression can prevent people, especially men, from getting the treatment they need, which can put both their health and their livelihood in danger.
"When it comes to depression, the most important thing is to identify," says Dr. Leader.  "The longer it goes on, the more likely it is that someone who is working may be terminated rather than treated.  If employers know there is a medical reason behind someone's absences or loss of productivity, they will be more willing to work with that person rather than just let them go."
There are a host of different options when it comes to treating depression, from traditional therapies like counseling or antidepressants to alternatives like music therapy or even interacting with pets. However, according to Dr. Leader, the easiest way for patients with moderate depression is to take care of themselves, watch what they eat, and get moving.
"The first thing we like to recommend is diet and exercise," Dr. Leader says.  "Those two things can help a lot more than most people realize."
Related Posts
Comments
About the Author
health enews staff is a group of experienced writers from our Advocate Aurora Health sites, which also includes freelance or intern writers.