How 3D printing can mend a broken heart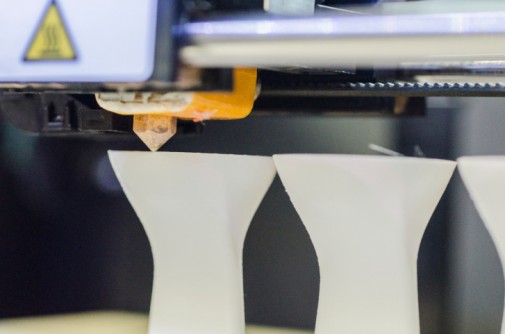 3D printing has been called the 2nd Industrial Revolution, completely changing the ways that products can be designed, prototyped and produced.  3D printing has made it possible to create everything from rocket engines to automobiles at the push of a button, and now the medical world is also trying its hand at this new technology.
Futurists certainly see medical 3D printing as revolutionary. Potential applications for 3D prototyping in the health care sphere are numerous, including everything from printing custom medication to tailored prosthetics.  However, according to research presented at the American Heart Association's 2014 Scientific Sessions, the way that 3D printing can change the way that physicians interact with the body the most is by not being in the body at all.
In the presentation, researchers lead by Dr. Matthew Bramlet of the University of Illinois College of Medicine at Peoria explained how they used 3D printing technology to create models of hearts to serve as guides before performing open-heart operations, allowing surgeons to see exactly what they will be working with before even picking up a scalpel.
"With 3D printing, surgeons can make better decisions before they go into the operating room," said Dr. Bramlet in a release.
The 3D printed method was tested by taking scans of the hearts of three patients of different ages but all with complex cardiovascular defects.  By printing plaster composite replicas of the hearts, surgeons were able to manipulate and examine their subjects in a far more detailed and tangible way than if they had relied on more traditional 2D images.  Ultimately, the surgeons were able to correct the defects in the hearts of all three patients.
"When you're holding the heart model in your hands, it provides a new dimension of understanding that cannot be attained by 2D or even 3D images," Dr. Bramlet said in a release. "What was once used to build trucks, we're using now to build models of hearts."
While the results produced by Bramlet and his team are promising, efforts by others to implement 3D printing into the world of medicine have been less successful, marred by technical setbacks or even ethical debates.  In particular, there is concern about "bioprinting," the method by which new organs or living tissue can be made from scratch on purpose-built printers.  While the potential applications for such technologies are limitless, so too are the questions surrounding regulation, morality and safety.
"These initiatives are well-intentioned, but raise a number of questions that remain unanswered," Pete Basiliere, research director at technology research firm Gartner said in a statement.  "What happens when complex 'enhanced' organs involving nonhuman cells are made?  Who will control the ability to produce them? Who will ensure the quality of the resulting organs?"
Despite the concerns over the future of the technology, physicians and researchers alike are enthusiastic that, in the hands of the right experts, it will do more good than harm.  According to Dr. Bramlet in a release, "The more prepared they are, the better decisions they make, and the fewer surprises that they encounter."
Related Posts
Comments
About the Author
health enews staff is a group of experienced writers from our Advocate Aurora Health sites, which also includes freelance or intern writers.