Don't ignore whiplash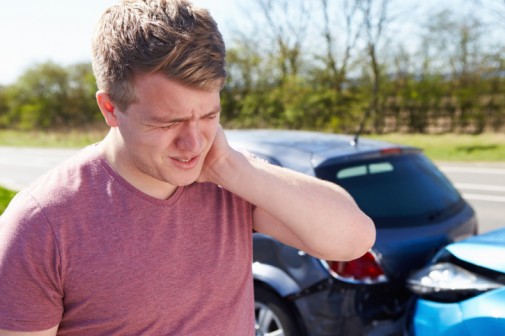 It was just a minor fender bender, and unlike your poor car, you don't have a scratch.  But, that doesn't mean you shouldn't be aware of the possibility of whiplash.
Whiplash is a common result from motor vehicle accidents, but victims often don't realize the full extent of their injuries until as many as two days later.
"That's why many people don't go to the emergency department right away after an accident," says June Faelnar, doctor of physical therapy at Advocate South Suburban Hospital in Hazel Crest, Ill. "It takes some time for the inflammation to set in, and with that comes the pain."
Whiplash, explains Faelnar, is an injury, or strain, of the neck – usually caused by rapid acceleration and deceleration of the head. Someone experiencing whiplash may feel mild to severe neck pain, particularly on the side of the impact, he says.
Faelnar says that shoulder pain and headaches also are common symptoms of whiplash. In addition, he adds that dizziness and vertigo might be experienced, and there can be numbness, tingling or pain all the way down the arms into the fingers in more severe cases.
After a car accident – one of the most common causes of whiplash – victims are still full of adrenaline, which can mask the symptoms for hours, Faelnar says.
"And, in the moments right after an accident, many people are much more concerned with their circumstances and environment than what's going on with their body," he says. "Once they are safe and out of harm's way, the inflammation and pain can become much more noticeable."
Accidents aren't the only cause of whiplash, however.
Other causes, says Faelnar, include collision injuries in contact sports, especially football or hockey. Roller coasters and other amusement park rides can also cause whiplash.
Though there are many treatments for whiplash, depending on severity, Faelnar's first-line recommendations include over-the-counter analgesics and anti-inflammatories, such as aspirin or ibuprofen.
Ice, he adds, may be good for in patients in the first few post-injury days who are suffering more severe pain and spasms. As full range of motion returns, heat may be used to loosen up muscles.
Some patients may be advised to wear a soft collar initially to support the head and diminish inflammation and muscle spasm. But, Faelnar warns against overreliance on immobilization.
"Early active mobilization and faster removal of a soft collar result in better short and long-term outcomes," he says. "The person should try to return to normal activities as soon as possible so they don't develop muscle weakness or imbalance.
Some people, however, do experience longer term pain, which can lead to psychological and behavior issues. Those might have to be dealt with by specialists, Faelnar says. Persistent pain, he says, could possibly lead to psychological issues such as depression or possibly even a chance of developing a dependence on pain medication.
Unfortunately, whiplash is very difficult to prevent, Faelnar says.
"It's the nature of  that sudden, forceful unexpected movement common in accidents and collisions of all types," he explains.  "Even well-trained, muscular athletes can get whiplash from an unexpected force."
To reduce the chance of whiplash in a motor vehicle accident, experts say to be sure to adjust your car's headrest correctly.  Make sure the top of the headrest is even with the top of your head and try to have the headrest about two inches away from the back of your head. This will help with rear impact accidents and prevent the head "snapping" and is a common cause of whiplash, he says.
Related Posts
Comments
About the Author
Nate Llewellyn, health enews contributor, is a manager of public affairs at Advocate Medical Group. Nate began his career as a journalist and builds daily on his nearly 20 years of writing experience. He spends most of his free time following his wife to their two sons' various activities.