Cough syrup abuse warning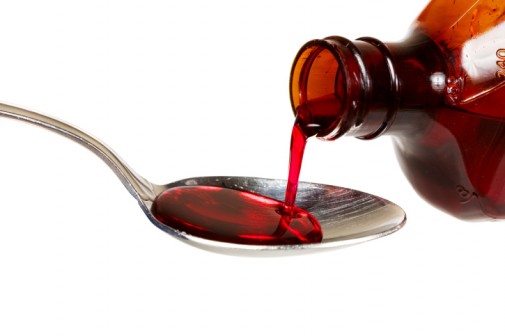 You probably have cough or cold medicine in your home right now. But you might not realize how dangerous it can be to your child.
A 2008 study found that one in 10 American teenagers has abused products with DXM to get high, making it more popular in that age group than cocaine, ecstasy, LSD and meth. Although DXM products are quite safe when taken as recommended, high doses can pose serious risks. Teens who overdose on DXM risk a host of negative side effects, including: hallucinations, loss of motor control, and "out-of-body" (dissociative) sensations, seizures, loss of consciousness, brain damage and even death.
DXM is in almost half of all of the OTC drugs sold in the U.S. For teens experimenting with drugs, DXM is cheap, easy to get and legal. For these reasons, teens themselves might be unaware of how harmful the drug can be.
At normal doses, DXM is quite safe. Dextromethorphan affects the brain, specifically the region that controls coughing. However, at high doses – as much as 10 to 50 times the suggested amount – DXM can cause hallucinatory and dissociative effects similar to those of PCP or ketamine (special K.) Some people assume that teens who abuse cough medicine are after the alcohol content, but they're really after DXM.
According to Dr. Charles Nozicka, the medical director of the pediatric emergency department at Advocate Condell Medical Center in Libertyville, Ill., area emergency rooms are seeing markedly increased numbers of these abuse cases. DXM overdoses typically occur in clusters, as word of the drug spreads in a community's middle schools and high schools. The clusters occur every five years or so, although DXM abuse occurs daily in this country, Nozicka said.
The 2011 Monitoring the Future (MTF) Report indicated that the annual prevalence of non-medical use of cough and cold medicines among students in 8th, 10th, and 12th grades was 2.9 percent, 4.3 percent, and 5 percent, respectively.
What can parents do to protect their teens? First, keep careful track of the cold and cough medicine you have on hand, and avoid stockpiling. Some parents lock up the medicine cabinet just like they do the liquor cabinet.
Nozicka says the most important thing is education. "It's better for kids to learn about the risks of drug abuse from a parent than from a peer. So look your kids in the eye and tell them that abusing drugs like DXM can have terrible risks, no matter what their friends are doing."
Related Posts
Comments
About the Author
health enews staff is a group of experienced writers from our Advocate Health Care and Aurora Health Care sites, which also includes freelance or intern writers.