My Multiple Sclerosis won't own me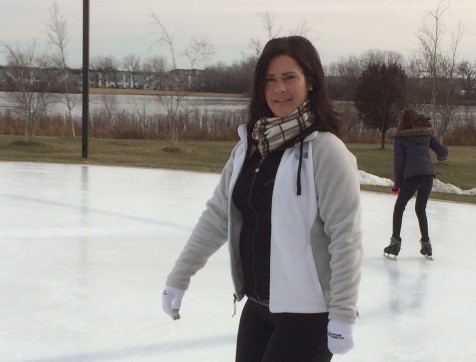 Eight years ago I was diagnosed with Multiple Sclerosis (MS). This disease causes an abnormal response in the body's immune system and is directed against the central nervous system according to the National Multiple Sclerosis Society. There is no known cause of the illness and no cure.
I took this diagnosis and owned it.
Knowing that MS could lead to an inability to walk, I found myself saying that I needed to use it or lose it. This began my journey into living a healthy lifestyle that included daily exercise and diet.  I took up running and kick-boxing which I like to call my physical and mental therapy. I started to pay more attention to what I was eating or more to what I wasn't eating.
I openly talked about my diagnosis with family and friends. I also weeded out those friends that I learned were not really my friends. I surrounded myself with positive people who I knew truly cared about me and I returned those same feelings. I even got a dog who I knew would always give me unconditional love.
The people in my life were telling me that I was handling this all so well. They loved my positive outlook. This was so encouraging to me. I was not going to let MS beat me. Instead, I was going to beat MS. This was my headstrong attitude that I've always had even before MS. According to Webster's, the definition of headstrong includes words like stubborn and obstinate which should of had my picture right next to the definition. This headstrong attitude was going to get me through. Wrong!
This headstrong attitude can also be my worst enemy. I don't like to ask for help. I've always felt that asking for help means that you then owe that someone in return and who wants that hanging over their head? People don't really want to help, it's a burden. Isn't it?
I was too headstrong to ask for help because that would mean that I wasn't handling my illness well. I wanted to keep up this façade that I was doing great even when the illness was changing things. I found myself tired, in pain, and sometimes just wanting to be by myself. However, all these things were easy to hide from the people in my life, so they assumed I was great!
Eventually I had to learn to communicate. Telling people you are not feeling well or too tired to do something is not a sign of weakness. Heck, even completely healthy people feel this way on occasion. It comes down to being able to say no.
In the past, instead of telling people no, I was making up excuses to cover the fact that I was sick or forcing myself to just do it. After all, the "just do it" slogan worked for Nike so why wouldn't it work for me?
Now I find myself saying "do what you can and take pride in the things you can do" instead of dwelling on the things you can't do. Most of all, I needed to realize the people in my life truly care for me. It bothers them more to see me struggle than it does for them to take time to help me. My relationships have been even gone stronger since I've learned to ask for help.
I have also learned to plan and prioritize, since I can't do it all. I also communicate with my family and friends about how I'm prioritizing. This way they understand why I'm saying no to them. My friends now understand when I tell them that I can't make it out on Friday night because it was hard enough for me to make it through the work day. My family understands that the holidays might get a little hard for me if I'm expected to be in more than one place for the day. It's all about communication and being honest.
I will never leave my headstrong mentality at home, but I have learned to sometimes check it at the door. I am stubborn and obstinate but now I know there is a time and place.
Related Posts
Comments
About the Author
health enews staff is a group of experienced writers from our Advocate Aurora Health sites, which also includes freelance or intern writers.