New innovative treatment for extreme back pain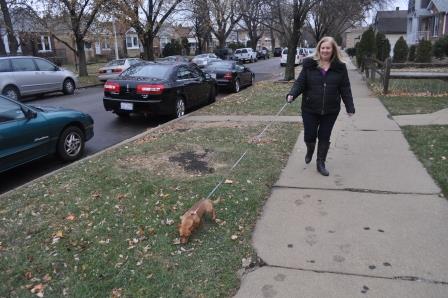 At only 56, Diana Dayton didn't expect to be using a walker, much less to be using it only to go short distances before needing to get back into her bed to take the strain off her aching back.
"The pain was excruciating," she says. "I couldn't even get out of bed most of the time. I was missing work, I could barely walk three feet. I was on all kinds of medication—muscle relaxers, Vicodin, Norco—and I couldn't sleep. There were times I couldn't even move my legs at all."
Her physicians at first thought her pain was caused by her sciatic nerve, but an MRI quickly showed that it was due to a break in her L1 vertebra.
"I have no idea how it broke. I hadn't fallen or anything," Diana says. "It just happened and the pain got worse and worse. The only comfortable position was on my side in my bed, and that was when I was drugged up. I was in pain a good six weeks last summer before I got help."
Diana was referred to Dr. Maunak Rana, pain management specialist at Advocate Illinois Masonic Medical Center in Chicago, who determined her vertebral compression fracture (VCF) made her the perfect candidate for a new treatment option, a Kiva implant.
"Compression fractures of the spine occur due to a loss of bone density," Dr. Rana says. "They mostly occur in the elderly, but younger adults who smoke or have certain health conditions can be susceptible, as well. Diana is still young and active, so I wanted to make certain we not only reduced her pain and got her off the narcotics she was taking, but reduced the possibility of fractures to the neighboring vertebrae."
For VCFs, physicians typically use a treatment called vertebroplasty and kyphoplasty, in which a small amount of cement is injected into vertebra to mend the fracture. Though this is the common standard, Dr. Rana says there are some risks with the procedure.
"With vertebroplasty, you're using cement, which changes the structure of the vertebra. Without any flexibility, there's a change in how the fixed fracture relates to the bones above and below, which can cause them to fracture in the long run, as well," he says.
Additionally, the cement may spread outside of the fractured bone, so there's a risk of some seepage into the bloodstream.
"The Kiva treatment is designed like a spring, so it takes less cement to bond it into place," Dr. Rana says. "With this device, the cement is more likely to be contained so there's less risk it will leak into the patient's system."
Like vertebroplasty, the Kiva treatment is a one-time, minimally invasive outpatient procedure. There are only two small incisions at the spine, through where a small coil is injected and filled with cement. The whole procedure only takes about 30 minutes and the pain relief is nearly immediate.
As an office manager at a manufacturing facility, Diana's livelihood is dependent on her being able to get around through various facilities and warehouses. "I had the procedure on Friday, Sept. 19, and was back to work, part-time, that Monday," she says.
Since her surgery, Diana says she's enjoying her life again, being more social with family and friends, cleaning her own home and even walking the family dog. Most importantly, she's off all her pain medications.
"I've got my life back," she says.
Related Posts
Comments
About the Author
health enews staff is a group of experienced writers from our Advocate Health Care and Aurora Health Care sites, which also includes freelance or intern writers.