Do you go to work when you are sick?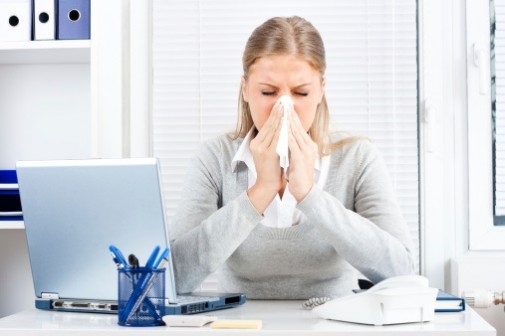 Chances are one of your co-workers has come to work in the past few days sneezing, coughing and blowing their nose. In fact, one study, conducted by Kimberly-Clark Professional, asked more than 1,000 people and found that 59 percent of them go to work sick.
Results showed that more men and people from the Midwest and Northeast were among the most likely to head into the office while sick. And women, people living in the Western states and folks 65 and up were more likely to stay home while sick.
Three out of 10 people believe their job is vital to the operations of their company, so they can't stay home. And about one in five say because their work load was so heavy, they needed to go in to complete it.
A Kimberly-Clark spokesperson added that even though a person's job may be of the utmost importance, they need to be aware that they are spreading germs to their fellow healthy and valuable employees, even making them sick.
The Centers for Disease Control and Prevention (CDC) recommends for each person ages six months and up to receive their annual flu shot ideally by October.
The CDC says the spread of the flu virus can reach others about six feet away and mainly spreads from droplets from the sick person when they cough, sneeze or talk.
Dr. James Malow, infection control specialist at Advocate Illinois Masonic Medical Center in Chicago says there are many things you can do to avoid being infected.
Most importantly, he says, is to get vaccinated against the flu. He also offers these tips to help avoid the flu this season:
Wash your hands frequently, using soap and water or alcohol-based hand gels or lotions. Rub your hands together for at least 20 seconds to eliminate germs, being certain to wash around your fingernails and up your wrists.
Cover your coughs and sneezes, using a tissue, handkerchief or the crook of your elbow. If you cough into your hands, wash them before touching anything to avoid possibly spreading illness on to others.
If possible, limit time in large crowds, especially in tight spaces, where germs are easily spread.
If you do get sick, stay home! You'll need the rest and time to heal for yourself and you'll avoid spreading the infection to your co-workers.
Keep your immune system healthy and ready to fight off infection by eating right, getting plenty of rest and exercising regularly.
Dr. Malow says that if you do get sick, be sure to contact your primary care physician right away.
Related Posts
Comments
About the Author
Sarah Scroggins, health enews contributor, is the director of social media at Advocate Aurora Health. She has a BA and MA in Communications. When not on social media, she loves reading a good book (or audiobook), watching the latest Netflix series and teaching a college night class.