Doctor survives brain aneurysm and practices medicine again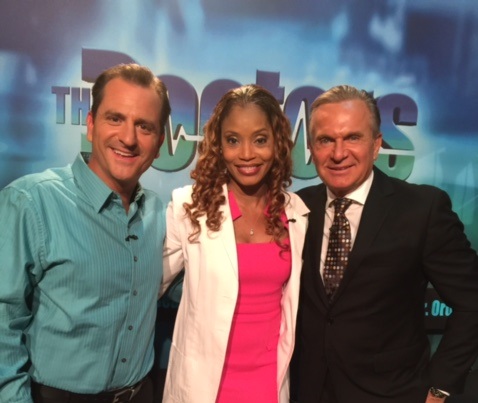 It was just a little ringing in her ears. Nothing debilitating, more annoying if anything.
A few years ago, Dr. Kina Peppers, an obstetrician/gynecologist on staff at Advocate Trinity Hospital in Chicago, started experiencing this ringing in her ears. She went to see a neurologist, who examined the arteries in her brain and discovered a five-millimeter aneurysm on the left side of her brain. When doctors told her the news two years ago, the emotions started flowing.
"I was just in shock and pretty distraught about what was happening. I had just ran a marathon two months before and now this," Dr. Peppers says.
Since a ruptured aneurysm can quickly become life-threatening, Dr. Peppers immediately made plans to undergo a minimally invasive treatment that uses a catheter to insert coils that induce clotting of the aneurysm. On the day of her surgery however, her doctor realized he was unable to safely perform the procedure and opted for a craniotomy instead.
"Doctors were saying it was one of the worst brain aneurysms they ever had to repair. I couldn't believe all this started with some ringing in my ear," Dr. Peppers says. "I was also thinking that my mom had a ruptured brain aneurysm just 10 years earlier."
When she awoke after the surgery several days later, she couldn't see, speak or walk.
She then began having seizures every one to two minutes and had constant pain. Doctors then realized that blood had dripped down to the base of her spine, causing inflammation. Once they had treated the seizures and her pain was under control, Dr. Peppers began the daunting task of re-learning how to move and talk.
"During my therapy, I had to learn to comb my hair, how to shower, how to wash clothes and how to cook and get my hand-eye coordination going," she says.
She had been through tough battles in the past, actually on battlefields in the Army National Guard for 24 years and completing two tours in Iraq. She also won a Bronze Star. But this would be an entirely different mission.
For weeks, she had to go through extensive physical, occupational and speech therapy. Through strong determination and the support of her loved ones, she slowly recovered. And despite some initial challenges with her memory, she passed the most important cognitive test that proved she was fit to return to her work as a physician.
"It was such a long road back," Dr. Peppers says, who told her story this month in a segment on the nationally syndicated show "The Doctors."
"It's unbelievable that I'm here," she says. "I'm here for a reason, and I know that God brought me back for a purpose. I know I am a walking miracle."
When she tells her story, many people, even close friends, can't believe it all.
"She is the most inspiring person I know. To imagine what she has gone through and where she is now, inspires me," said family medicine physician Dr. Rachael Ross, co-host of "The Doctors" and a personal friend of Dr. Peppers.
To see a clip of Dr. Pepper's appearance on "The Doctors," click here.
Related Posts
Comments
About the Author
health enews staff is a group of experienced writers from our Advocate Aurora Health sites, which also includes freelance or intern writers.