How on-the-job stress affected one cop's heart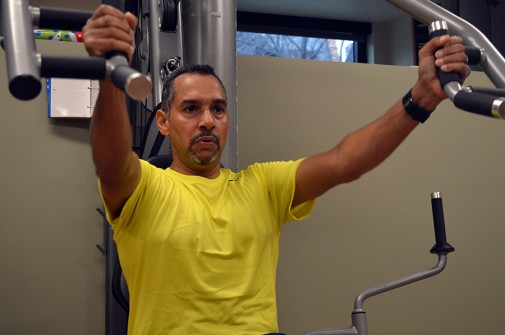 Being an auto theft detective for the Chicago Police Department, Stanley Colón says he sometimes thought of stress as his second partner. Dealing with the needs of a sometimes difficult public and wanting to succeed in every case and help those affected by urban crime eventually took its toll.
In September 2013, just before the Labor Day holiday and less than a month after his 53rd birthday, Colón was playing his usual position of shortstop in a men's baseball league. After running from second base to home plate, he found he was having trouble just catching his breath. He then noticed a pressure from his shoulder to his chest, with pain when he tried to take a deep breath.
"There was definitely pressure in my chest," he says. "I'd been noticing all season that it was getting harder to breathe, that it was harder to get back to a regular breath when I was running or exerting. I kept telling myself I'd get it checked out, but life just gets in the way."
Fortunately, there was a cardiologist playing on the opposing team who recommended Colón see a doctor as soon as possible. The pain subsided and Colón knew he had a busy weekend ahead with his brother's wedding, so he opted for a trip to the pharmacy for aspirin rather than a trip to the doctor.
After a holiday weekend of taking it easy, he went in to the Emergency Department at Advocate Illinois Masonic Medical Center in Chicago. There, he underwent a stress test and angiogram, which found several clogged arteries and the need for a triple bypass surgery.
"Though there wasn't a lot of time to think about the operation, there was enough that I could have worried," Colón says. "But I didn't. My faith strengthened me."
Following a successful procedure, Colón enrolled in the medical center's Cardiac Rehabilitation program to help get back to his active lifestyle. On December 2013, he was working out on the elliptical cross-trainer when he says his "chest felt like it was burning up."
After another trip to the emergency department, Colón was shuttled up to an operating room, where he had a stent placed in another artery.
"Stanley has a very aggressive form of coronary artery disease and developed another blockage very quickly," says Dr. Ajay Baddi, one of Colón's cardiologists on staff at the medical center and with Advocate Heart Institute. "It's rare, but some people are more affected than others by the condition."
Colón says he's grateful he was in the Cardiac Rehabilitation program at the time, being under the care of the professional nursing staff during his second heart scare. And, he says he knows what caused his heart problems.
"I'm convinced my problem was stress," he says of his heart condition. "Stress is the quiet killer. I never thought it applied to me. I didn't let things bother me—you need to be able to let things go when you're a police officer."
Dr. Baddi agrees that stress, as well as family history, contributed to Colón's heart problems.
"Usually, stress is the trigger—it doesn't cause a heart attack by itself," he says. "Stanley, being a police officer, was under a large amount of pressure. Stress raises your adrenaline, which, combined with coronary artery disease, can damage the heart."
Colón remains a patient of the program, where he says it's nice to use his experience to help guide some of the new patients coming into the program. And the best advice he can give them?
"Don't let it go," he says. "If it doesn't feel right, get it checked—don't postpone it. Value life, know your risks and take care of yourself."
Do you know your risk for heart disease? Take our heart risk assessment here. If you are at high risk, see one of Advocate Heart Institute's cardiologists within 24 hours.
Related Posts
Comments
About the Author
health enews staff is a group of experienced writers from our Advocate Health Care and Aurora Health Care sites, which also includes freelance or intern writers.