Fake lashes may be harming your eyes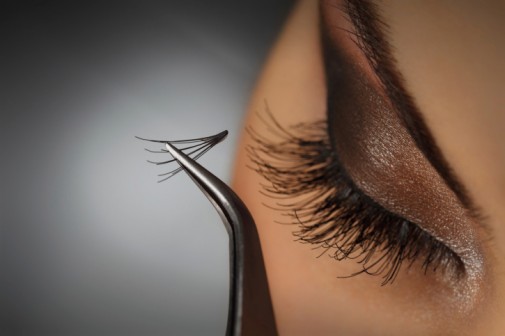 Long lashes have been a beauty trend for women for centuries. In the early 1900s, Maybelline made the first ever "eyelash darkener," later re-named mascara. Supermodel, Twiggy, made false eyelashes popular on the runway in 1960. But the latest fashion staples are eyelash extensions, which have become notorious on celebrities like Heidi Klum, Kim Kardashian, Rihanna and Paris Hilton.
But can long lashes be harmful?
A new study presented to the Society for Integrative and Comparative Biology found that long lashes can actually funnel air to the eye's surface, making them more vulnerable to dryness and dirt.
In the study, researchers first measured lash length in 22 diverse species of animals, from hedgehogs to giraffes, and found that in all the animals lash length was one third the eye's width.
To furthermore investigate lashes, researchers made artificial eyes and attached synthetic lashes to water-filled aluminum caps and monitored the eyes water loss and particle collection in a small wind tunnel.
They found that lashes with the typical one-third ratio tended to protect the eye from drying and dirt by creating a zone of stagnant, or still, air just in front of the eyes. When the lashes were too long, they no longer trapped air and instead funneled air flow onto the eye causing increased evaporation and particle accumulation.
"Long lashes catch the air and guide it to the eye surface," said the study's lead author Guillermo Amador, in a statement.
Amador would like to test women with extensions eventually to see if their eyes dry out more when having the synthetic fiber. Extensions have been known to trap dirt and dust causing a higher risk of bacterial and fungal infection.
Health experts have also found that the glue adhesive, formaldehyde, used to apply the false lashes can be dangerous. This ingredient has been known to cause an allergic reaction. Take actress Kristin Chenoweth, who was reported to have "eyelid lips" due to a reaction from the glue right after applying the fake lashes.
Some ophthalmologists say it's best to steer clear of false lashes and extensions.
"My advice is to stick to mascara," says Dr. Samuel Multack, an ophthalmologist on staff at Advocate South Suburban Hospital in Hazel Crest, Ill. "Nothing is worse than seeing a patient in severe pain because of a corneal infection. If you think you might have an infection or an allergic reaction from eyelash extensions, don't hesitate to see an ophthalmologist immediately."
If you are going to enhance the length of eyelashes, ophthalmologists offer the following advice:
Ensure that the aesthetician is certified and working at a reputable establishment.
Check that the aesthetician practices adequate hand washing and proper hygiene.
Check the eyelash adhesive ingredients before using.
Related Posts
Comments
About the Author
health enews staff is a group of experienced writers from our Advocate Aurora Health sites, which also includes freelance or intern writers.