These germs are riding with you on the subway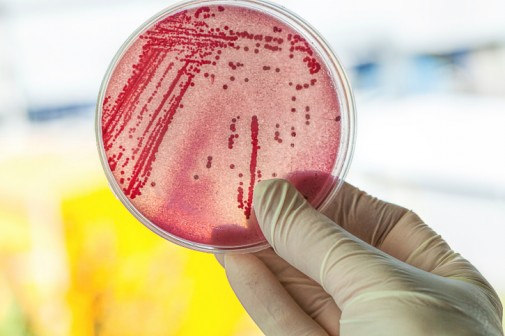 New York City has one of the busiest subway systems in the world. But it turns out the 5.5 million daily riders aren't the only passengers of the underground rails.
According to a study released last week by researchers at Weill Cornell Medical College, subway riders in the Big Apple are keeping company with a host of microorganisms—most of which are harmless.
The study is a pathogen map—or PathoMap—of the city, with the heavily traveled subway a proxy for New York's population. The researchers say the PathMap could be used for "long-term, accurate disease surveillance, bioterrorism threat mitigation and large-scale health management."
From the samples taken over a period of nearly a year and a half, the researchers report that nearly half of the DNA collected—48 percent—were unidentifiable according to the National Center for Biotechnology Information or the Centers for Disease Control and Prevention (CDC). These are organisms touched by New Yorker commuters every day, but were uncharacterized and undiscovered until this study. The researchers say these findings underscore the potential for scientific exploration right under their fingertips.
"Our data show evidence that most bacteria in these densely populated, highly trafficked transit areas are neutral to human health, and much of it is commonly found on the skin or in the gastrointestinal tract," says Dr. Christopher Mason, geneticist at Weill Cornell Medical Center and the study's lead author in a statement. "These bacteria may even be helpful, since they can out-compete any dangerous bacteria."
The researchers took samples from rails, seats, doors and turnstiles in subway stations and train cars. What they reported finding:
12 percent of the bacteria species they sampled showed some association with disease.
Live, antibiotic-resistant bacteria were present in 27 percent of the samples collected.
Two samples collected were found to contain DNA fragments of anthrax and three samples with a plasmid associated Bubonic plague—both at very low levels.
"Despite finding traces of pathogenic microbes, their presence isn't substantial enough to pose a threat to human health," Dr. Mason says. "The presence of these microbes and the lack of reported medical cases is truly a testament to our body's immune system, and our innate ability to continuously adapt to our environment."
Could similar findings be expected in other large city mass transit systems, like Chicago's? And, if so, should we worry?
"I suspect that there would be similar findings, but not identical, to New York," says Dr. James Malow, infection control specialist with Advocate Illinois Masonic Medical Center in Chicago. "These bacteria are a fingerprint of the population in New York. In that our cities aren't identical in terms of ethnic groups, weather conditions and geography—including very different bodies of water—I would anticipate that we would see our own unique signature."
Dr. Malow says although the researchers discovered fragments of dangerous bacteria, including antibiotic-resistant bacteria, the findings didn't correlate with any disease processes in New York.
"This study didn't provide any evidence that fails to support our usual recommendations of good hygiene, including hand-washing, to prevent infections," he says.
Related Posts
Comments
About the Author
health enews staff is a group of experienced writers from our Advocate Aurora Health sites, which also includes freelance or intern writers.