Could meditation slow the aging process?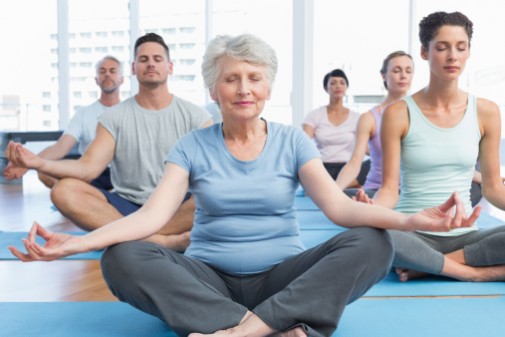 People often go to the extremes to slow down the aging process. Everything from Botox treatments, to facelifts and even brain games to help improve memory. But could meditation be the key to living a youthful life?
Unfortunately, starting in your mid-to-late-20s your brain begins to wither in volume and weight begins to decrease causing the brain to lose some of its functional abilities, experts say. As we age, the risk for mental illness and neurodegenerative disease can increase.
Although, this natural degeneration of the brain may minimize its ability to function, a new study published in Frontiers in Psychology finds that people who meditate have a better chance at preserving their brain's gray matter, the tissue that contains neurons.
Dr. Florian Kurth a lead researcher UCLA was surprised by the results.
"We expected rather small and distinct effects located in some of the regions that had previously been associated with meditating," he said in a news release. "Instead, what we actually observed was a widespread effect of mediation that encompassed regions throughout the entire brain."
While research was mainly focused on identifying factors that increased the risk of mental illness and neurodegenerative decline, less attention has been focused on enhancing the cerebral health in the brain.
The study looked at the association between age and gray matter by comparing people who meditated regularly for a long period of time to those who never meditated.
Each group was made up of 28 men and 22 women ranging in age from 24 to 77 years old. The group that meditated were not new to the practice and had been meditating on average 20 years.
During the study, each participant's brain was scanned using high resolution magnetic resonance imaging or MRI.
Even though study experts found a negative correlation between gray matter and age in both study groups, which might have suggested a loss of brain tissue with increased age, they did conclude that large parts of the gray matter in the brains of those who meditated were better preserved.
The scientists did caution that they cannot draw a direct connection between meditation and preserving gray matter in the brain after conducting the research.
"Too many other factors may come into play, including lifestyle choices, personality traits and genetic brain differences," researchers noted. "Our results are promising. Hopefully they will stimulate other studies exploring the potential of meditation to better preserve our aging brains and minds."
Dr. Darren Gitelman, Senior Medical Director for Advocate Memory Center at Advocate Lutheran General Hospital finds the study interesting, but notes that more work needs to be done to see if starting meditation later in life makes a difference. Also, more research needs to be done to better understand how much meditation is needed.
"Other interventions that may help to stimulate the brain are regular vigorous aerobic exercise and participation in mentally challenging activities," says Dr. Gitelman.
Related Posts
Comments
About the Author
health enews staff is a group of experienced writers from our Advocate Aurora Health sites, which also includes freelance or intern writers.