Ankle replacement gets carpenter back on his feet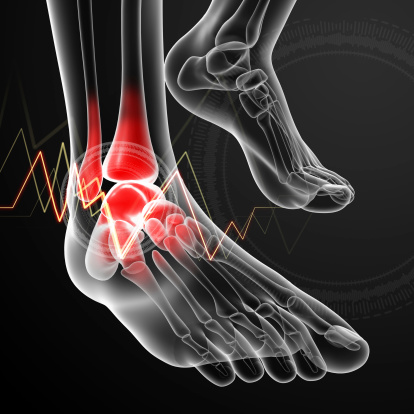 "Every bone that I could break in the ankle was broken," says Donald Rooney, after a fall from a second-story roof while working as a carpenter contractor.
The fall twisted one of Rooney's ankles in the "opposite direction," and he underwent surgery in which the team "put in three pins and a screw." Following months of healing, Rooney returned to work, but the ankle was never the same.
"At first, it was stiff, but not a major problem," he says.
However, he gradually began to develop arthritis in the injured ankle. It became painful, and the ankle joint increasingly lost movement. He began taking cortisone shots and tried braces without any success.
Rooney started investigating the possibility of a total joint replacement for his ankle, but was initially put off by early research showing that such replacements wore out relatively quickly in more active individuals. With his strenuous work as a carpenter, he wanted to be sure that any joint replacement could withstand the rigors of his job.
He eventually learned about a new kind of replacement for the ankle joint – one that studies show can hold up to daily, high-impact activities — and was referred to Advocate Christ Medical Center in Oak Lawn, Ill., where he met with podiatrist, Dr. John Grady.
Dr. Grady used a higher-tech titanium, polished-chrome-and-plastic joint replacement that researchers believe is more durable than older ankle implants.
"The bone grows into the titanium and holds the replacement joint securely in place," says Dr. Grady, who recommends total ankle joint replacement over more standard fusion surgery, in which all the remaining cartilage in the ankle joint is removed and the ankle joint bones are connected with metal screws and plates.
"Fusion surgery takes away ankle motion. By eliminating motion, you reduce the ankle's shock absorption and the capacity to propel forward and transfer stress to the knee and hip joints and lower back," he says. "When an artificial joint is implanted, a patient can walk more normally, move faster and function better. For example, the person can put on and take off a pair of boots in normal fashion."
For Rooney, joint replacement surgery using the new titanium implant has left him pain-free and no longer needing medication for arthritis. In addition he feels like he has 10 times more ankle movement.
"I was taking arthritis medications for as long as 10 years and now I no longer need them" – and with "10 times more movement" in his ankle.
"For me, it's like having a brand-new ankle," he says.
Related Posts
Comments
About the Author
health enews staff is a group of experienced writers from our Advocate Health Care and Aurora Health Care sites, which also includes freelance or intern writers.