Gun violence survivor runs strong in son's memory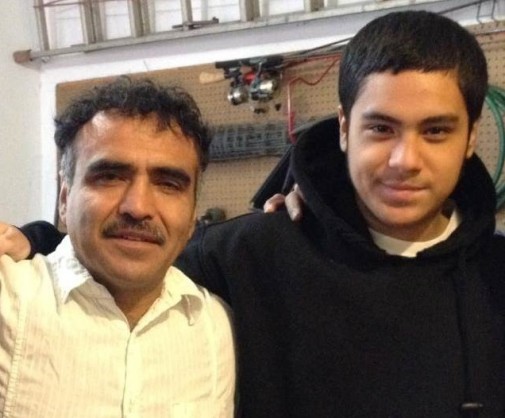 Uriel Lara refers to the day he and his son were shot as simply "the accident."
Everything in his life — events big and small, thoughts and feelings — are separated into the before and the after of "the accident" that took his 16-year-old son from him.
"Just a few days before the accident, my son told me he wanted to start running," says Lara, an avid life-long runner and running coach known to his pupils as the Running Man. "I was so happy. I asked when and he said Monday—the day of the accident."
Lara says Adam's request moved him, as he had hoped his youngest would take up running, though he hadn't wanted to push him into it.
On Monday, July 14, 2014, Lara says Adam asked if he could spend some extra time with him before they started training. The two were having "a great time in life" as they stopped for lunch at a restaurant on Chicago's Northwest Side. Leaving the restaurant, Uriel says they were approached by "two kids" who began arguing with Adam.
"I pulled him into the car," Lara says. "They kept yelling, insulting. I got out and my son got out. He wanted to fight, but I told him I don't want any trouble."
They tried walking away, but were confronted from the front and the rear by the two assailants.
"When I stopped, the guy behind shot us," Lara says. "I didn't even see it. The last words from my son were, 'He's got a gun.'"
Though he didn't immediately realize it, Lara was hit on his right side, the bullet shattering six ribs and piercing his liver and right lung. He couldn't breathe. He turned and saw Adam, unmoving, sitting where he'd also been hit.
When the paramedics arrived, he urged them to care for Adam.
"I told them, I'm OK, I'm OK. Just take care of my son," Lara says.
Now, still mourning Adam's passing, Lara says he's ready to honor him on the course again as he readies to run the Shamrock Shuffle on Sunday.
"I had stopped running events, but now that my son isn't with me, I need to participate," Lara says. "He loved to see me run races. He told all his friends and teachers about me. He knew how special running is to me."
Running is hardly new to the 49-year-old who grew up in Mexico and is the youngest child in his family. Lara ran several miles a day on a dawn paper route and then 3 miles to school. He ran out of necessity, keeping the early morning job to help support his family.
Starting at age 11, Lara says he's run 25 to 30 marathons, including three runs in the Chicago Marathon. He's participated in countless half marathons, 5Ks, 10Ks and a 100-mile ultra-marathon in Colorado.
He says his dreams are still filled with him at his happiest—when he's running.
But, the events weren't as fulfilling for him as helping people meet their running goals.
"I stopped [running events] because I was more interested in coaching people," Lara says. "I like to help other people meet their goals, but I never stopped running. I run every day. It's like eating, like sleeping. There are three things in life you need to do — rest, eat and exercise."
Lara still has some difficulty breathing and pain in his side where the bullet wounded him.
"Given the magnitude of his injuries, it's remarkable he's been able to return to this level of physical activity," says Dr. Richard Fantus, trauma surgeon at Advocate Illinois Masonic Medical Center in Chicago, where Uriel was treated. "There was substantial damage to his chest wall and lung, which would make it challenging to regain the endurance necessary for running distances—especially for someone his age."
Getting back in the run early was exactly what the doctor ordered.
"We encourage early ambulatory post injury," Dr. Fantus says. "We get our post-operative patients up as early as possible. Running is a natural extension of this philosophy of care."
Related Posts
Comments
About the Author
health enews staff is a group of experienced writers from our Advocate Aurora Health sites, which also includes freelance or intern writers.