Rare form of epilepsy won't slow this 9-year-old down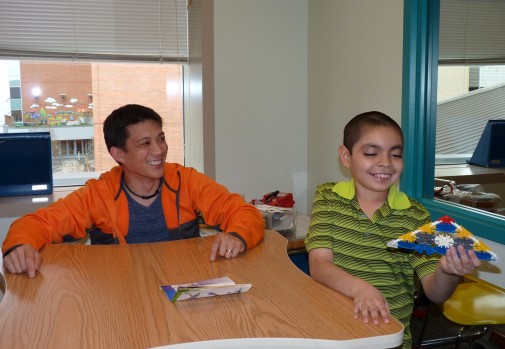 Playing outside is a favorite summer activity for many kids, including JanCarlo Bahena.
The 9-year-old loves to be outdoors, but can only do it on cooler days for no more than 10 to 15 minutes. That's because he was born with Dravet syndrome, an untreatable form of epilepsy which causes uncontrollable seizures often triggered by daylight and warm weather. The rare genetic disorder occurs in roughly one in every 30,000 births.
The syndrome causes developmental delays and most children can't speak. However, thanks to his pediatric therapists, JanCarlo, a third-grader, can speak both English and Spanish.
"He is very social, happy and friendly, and everyone loves him here," says Anna Newman, the boy's speech therapist at Advocate Children's Hospital in Park Ridge, Ill., where he has been receiving therapy services since 3. "He knows everyone's name and says 'Hi' to them. We call him our little mayor."
This month, JanCarlo will be participating in the Pediatric Therapy Department's Rising Star Talent Show where children receiving therapy can share the skills they have been working on — walking, talking or riding a bike, to name a few. The show helps promote self-esteem, while developing talents and having fun.
"Despite multiple medications, he continues to have seizures," says Dr. Nishant Shah, pediatric neurologist at Advocate Children's Hospital in Park Ridge. "His therapy program has enabled him to continue to interact with others in his environment in a meaningful manner."
"We are very happy to have him participate in our occupational therapy group act, dancing to YMCA at the upcoming Rising Stars Talent Show," says Ryan Geslani, his occupational therapist.
Some acts are coordinated with therapy goals to make the experience more enjoyable.
"Incorporating music, performance and fun into therapy helps motivate our patients. They are working on therapy goals without realizing it while they are rehearsing for the show," says Sonal Patel, manager of pediatric therapies at the hospital. "This annual event is a real self-esteem booster for our patients. These children have so many hidden talents and many have never had the opportunity to perform before an audience before."
Click here for more details about the Rising Stars Talent Show.
Related Posts
Comments
About the Author
Sonja Vojcic, health enews contributor, is a marketing manager at Advocate Health Care in Downers Grove, Ill. She has several years of international public relations and marketing experience with a Master's degree in Communications from DePaul University. In her free time, Sonja enjoys spending time with her family, travelling, and keeping up with the latest health news and fashion trends.