Teens go online for answers to their health questions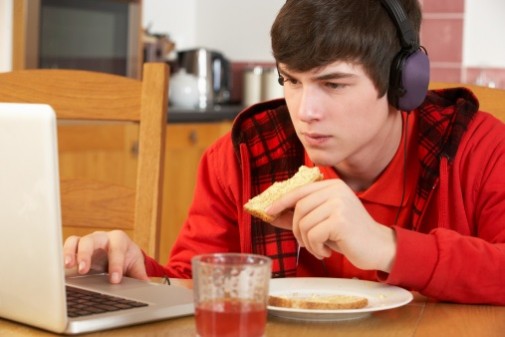 Answers to health-related questions are just a click away thanks to the Internet, but is this digital diagnosing safe for teens?
The first national study of its kind examined how and why teens use online health information and found that 84 percent of teenagers are turning to the Internet to learn more about their ailments. Researchers surveyed 1,156 American teenagers 13 to 18 years old.
"We found some real surprises about all the negative things kids are doing online, but teens are using the Internet to take care of themselves and others around them," said Ellen Wartella, lead study author and director at Northwestern University, in a news release.
Teens were evaluated on the following topics:
How often they use online health tools
How much information they receive
What topics they are most concerned with
How satisfied they are with the information
What sources they trust
Whether they have changed their health behaviors as a result
No surprise to medical experts, teens were fearful to discuss personal topics such as puberty, drugs, sex and mental illnesses with their pediatrician, the study found.
"Building a relationship with your patients is vital," says Dr. Mary Collins, pediatrician with Advocate Good Shepherd Hospital in Barrington, Ill. "You have to build a level of trust so that teens feel comfortable seeking answers from medical experts. That is why in my medical practice ask the parents to leave the room when the kids are 14. They need to have a level of comfort where they can open up about a topic privately and truthfully without having a parent speak on their behalf."
Other findings from the survey included:
One third of teens visit medical websites for health information, but they are also searching less traditional online sources like YouTube, Yahoo, Facebook and Twitter.
School assignments, taking better care of themselves, checking symptoms or diagnosis, and finding information for a family or friend were the four main reasons teens were searching for health information.
Forty-two percent of teens research fitness and exercise topics, followed by diet and nutrition, stress and anxiety, sexually transmitted diseases, puberty, depression and sleep.
Nearly one in three teens surveyed said they have changed their behavior due to digital health information or tools.
Seven percent said they have changed their behavior as a result of using a mobile app.
Half of teens say they usually click on the first site that comes up on Google, although they feel that domain names do matter. Only 14 percent of teens trust a dot-com domain compared to 37 percent for a dot-edu domain.
Internet searches of symptoms can also incorrectly diagnosis a condition and leave teens at risk.
"I can't stress enough how important it is for physicians and patients to talk about their health concerns at their annual exam," Dr. Collins says. "Going online can be a good starting point, but having an open dialogue with teens can help to really individualize their treatment. No website is perfect enough to be able to take into account the teen's family history, day-to-day concerns, feelings, etc."
Related Posts
Comments
About the Author
health enews staff is a group of experienced writers from our Advocate Aurora Health sites, which also includes freelance or intern writers.