Are you living with a hernia?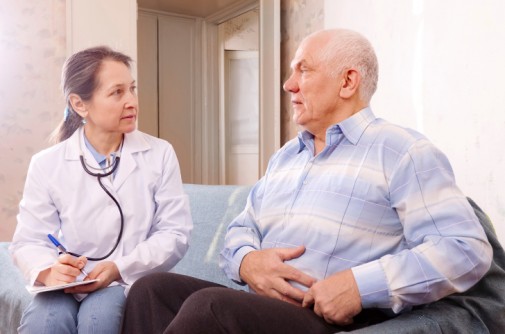 Hernias can be a very painful thing, but most people don't know the pain can be prevented by dealing with them before they rupture.
A hernia is a defect in the abdominal wall and can occur when a weak area gives way allowing an organ, like the intestine or fatty tissue, to poke out through an opening in the muscle or tissue that is supposed to hold it in place. Excessive pressure can cause these tissues to break through the weakened area.
Know the signs
Hernia signs and symptoms range from a small visible and pain-free lump to a severe and painful protrusion of the tissue. Coughing, bending over and heavy lifting can make it very painful.
A hernia does not go away on its own. Even with no symptoms, it can also cause serious problems such as infection, bowel obstruction and, in some cases, surgery is the only way to repair them.
Dr. Robert Sulkowski, a general surgeon at Advocate Lutheran General Hospital in Park Ridge, Ill., says hernias occur most commonly in the groin and are called inguinal hernia.
"If tender, they may require emergency operation if the tissue in the hernia becomes strangulated and the blood supply is compromised," Dr. Sulkowski says.
He and his partner, Dr. Scott Peckler, perform more than 200 hernia surgeries per year.
Common locations
"It is much more common in men due to the opening that allows the decent of the testicles into the scrotum." Dr. Sulkowski says.
A second common site is the belly button, called an umbilical hernia, which is another natural weak spot prone to develop a hernia due to obesity, pregnancy and age.
"Surgery creates another weakened area and up to 10 percent of abdominal incisions will develop an incisional hernia," Dr. Sulkowski says.
What to do
Doctors say surgery is the only long-term treatment to repair a hernia.
They can be repaired with either open surgery or laparoscopic surgery, which uses a tiny camera and miniature surgical equipment, only making a small incision.
For some patients, the size and severity of their hernia may not require immediate surgery and can be monitored. Symptoms can be managed by avoiding large meals, bending down, coughing, straining and smoking. However, most doctors believe even asymptomatic hernias should be repaired to prevent further damage.
Dr. Sulkowski recommends getting it repaired instead of living with it.
Related Posts
Comments
About the Author
health enews staff is a group of experienced writers from our Advocate Health Care and Aurora Health Care sites, which also includes freelance or intern writers.