How contaminated is that swimming pool?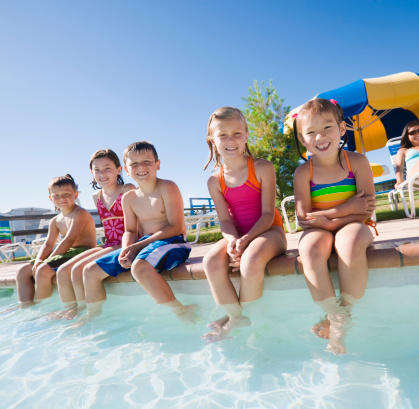 People may have heard chlorine kills all germs, but it turns out that's not the case. Pool chemicals kill most germs in a matter of minutes, but some germs can lurk for days, according to the Centers for Disease Control and Prevention.
It's no secret that some people urinate in pool water, but the new CDC report indicates that human waste, especially diarrhea, has become an issue in pools. Urine in pools can cause irritation and red eyes, while serious illness can be caused by feces.
"Although swimming pools pose some health hazards, it is still a relatively safe summer activity," says Dr. Stephen Sokalski, infectious disease specialist at Advocate Christ Medical Center in Oak Lawn, Ill. "Make sure to shower with soap as soon as possible after a day at the pool. If you experience vomiting, a bloody nose, chest pain, shortness of breath, fever, stomach pain, weight loss or heavy skin or eye irritation after getting out of the pool or a few days later, you should follow up with your family practice physician."
Four signs that you have encountered bodily waste during an outing to the pool include:
A heavy chlorine smell. According to the CDC, healthy pools don't have a strong chlorine smell. The smell comes from the chemicals that form when chlorine mixes with human urine, feces, sweat and dirt. When this happens, there are less germ-killing chemicals left.
Red, irritated eyes, runny nose and cough, which are caused by the chemicals.
Gastrointestinal problems.
Dr. Sokalski recommends the following steps to avoid getting sick, or making others sick at the pool this summer:
Take a shower before entering the pool to wash away germs.
Don't relieve yourself in the water. Leave the pool once per hour to relieve yourself. Take your young child to the bathroom every hour.
Teach your kids not to use the pool as a bathroom.
Don't change diapers near the pool.
If you or your child are suffering from diarrhea, don't go swimming.
Never drink pool water.
Wear goggles and a nose plug.
If you notice a heavy chlorine smell, you may want to find a different swimming pool.
Related Posts
Comments
About the Author
Kate Eller was a regional director of public affairs and marketing operations for Advocate Health Care. She enjoys road trips, dogs, minimalism, yoga, hiking, and "urban hiking."