Two days of calories in one restaurant meal?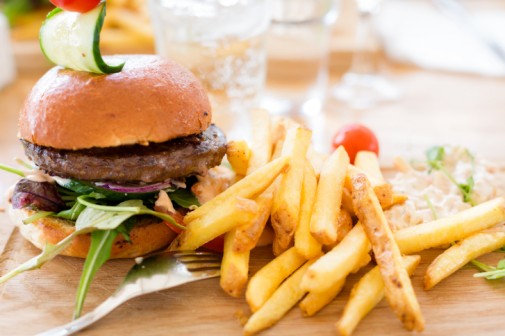 The Center for Science and Public Interest has released the Xtreme Eating 2015 awards – the list of restaurants across the U.S. serving meals with more than 2,000 calories.
This year, nine restaurants made the list. The most extreme meal, served by Red Lobster, contained 3,600 calories. It included jumbo shrimp, linguine Alfredo, French fries, a side salad, a Cheddar Bay biscuit, and a traditional Lobsterita (24-ounce margarita).
Sonic's Pineapple Upside Down Master Blast is a  32-ounce beverage made with  vanilla ice cream, pineapple, salted caramel and pie crust pieces. The sugary drink contains 2,020 calories and packs 61 grams of saturated fat, 4.5 grams of trans fat and over half a cup of added sugar.
The remaining seven featured chain restaurants included The Cheesecake Factory, Uno Pizzeria & Grill, Steak 'n Shake, Outback Steakhouse and IHOP. Each had a meal containing more than 2,000 calories as well as a few days' worth of saturated fats, sodium and added sugar.
"Meals eaten out generally pack on excessive calories compared to homemade meals," says Leah Woock, senior clinical dietitian at Advocate Illinois Masonic Medical Center in Chicago. "The average meal at a chain restaurant is close to 1,000 calories, so it's important to be mindful of your meal selections when eating out."
Woock offers these 5 tips when trying to minimize the calories when dining out:
Avoid "fried." Avoid words such as fried, battered, crispy or breaded. Look for words such as baked, broiled, grilled or steamed for healthy options.
Swap the fries. Save several hundred calories by swapping fries or chips with vegetables. Most restaurants have a variety of vegetable or salad side options.
Order from the "light" menu. Many restaurants offer light options on their menu, which can save you calories. If a "light" menu isn't available, try ordering an appetizer or splitting a dish to help control portions.
Pizza night? Make it thin. Pizza can still be an option for those watching calories. Choose thin crust, load on the vegetables and ask to go light on the cheese to save major calories. Better yet, order a side salad to fill you up and eat a smaller portion of pizza.
Order sauce and dressing on the side. Dressings and sauces can add hundreds of calories to your meal. Order these items on the side, and use the "fork method" to cut down on the amount you use. Dip your fork into the sauce or dressing and then into your food and you'll use a fraction of what you would if you poured it on.
Related Posts
Comments
About the Author
Meghan Robinett, health enews contributor, is a public affairs and marketing intern with Advocate Illinois Masonic Medical Center. She is studying Communication Arts and Digital Media at the University of Wisconsin - Madison. In her free time, she enjoys baking, playing soccer and traveling.