Americans are slackers when it comes to fruits and veggies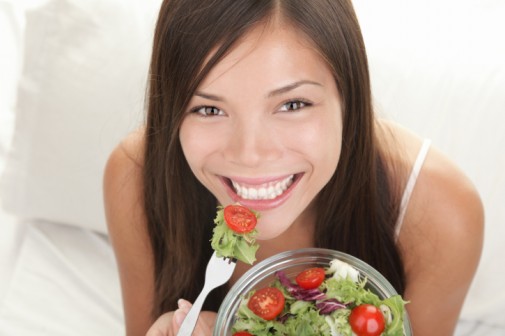 If you think you are not eating enough fruits and vegetables, you're probably right. In fact, only one in 10 Americans eat enough of them, according to the Centers for Disease Control and Prevention (CDC).
Only about 13.1 percent of Americans are eating enough fruits and only about 9 percent are eating enough vegetables, according to the CDC report. The federal Dietary Guidelines for Americans recommends adults eat one-and-a-half to two cups of fruit per day and two to three cups of vegetables daily.
"We should aim to get more fruits and vegetables into our daily meals," say Jamie Portnoy, a registered dietician with Advocate Medical Group's Advocate Weight Management. "Choose the rainbow. The more colorful your plate, the more nutrients you are getting."
The report suggests new efforts are needed to build consumer demand for fruits and vegetables through competitive pricing and promotion in child care facilities, schools, grocery stores, communities and workplaces.
"Eating fruits and vegetables rich in potassium is an important part of an overall healthy diet," says Portnoy. "They may reduce the risk of developing kidney stones and may help to decrease bone loss. They cut the risk for heart disease and diabetes, too."
Additionally, the CDC report says eating more fruits and vegetables reduces the risk for stroke and some cancers, and helps manage body weight when eaten instead of more energy-dense foods.
Portnoy says some fruits are more nutritious than others but all count toward the daily recommended amounts.
"Fruits may be fresh, canned, frozen, whole, cut-up or pureed, but fresh is always the best option," she says.
To get more fruits and vegetables in your diet, Portnoy recommends:
Getting the widest range of nutrients, all colors are important: red, green, yellow, purple, orange, etc. When looking at your plate, aim for color.
Adding fruit to your yogurt in the morning. For a snack, have 17 grapes. That's a serving right there.
Adding nonstarchy vegetables such as lettuce, cucumbers and tomatoes to your sandwich to make it more full
Choosing a salad, broccoli or green beans instead of fries.
Related Posts
Comments
About the Author
Kathleen Troher, health enews contributor, is manager of public affairs and marketing at Advocate Good Sheperd Hospital in Barrington. She has more than 20 years of journalism experience, with her primary focus in the newspaper and magazine industry. Kathleen graduated from Columbia College in Chicago, earning her degree in journalism with an emphasis on science writing and broadcasting. She loves to travel with her husband, Ross. They share their home with a sweet Samoyed named Maggie.