'Dainty Warrior' helping kids and families fight cancer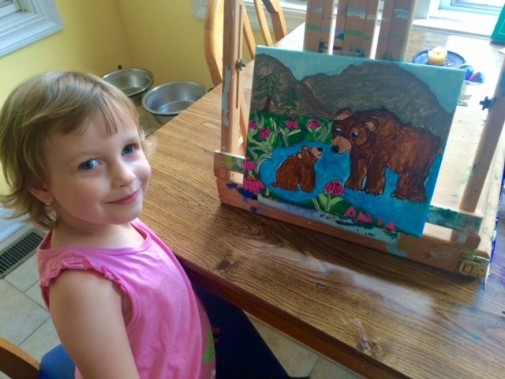 A 5-year-old Chicago girl is turning her battle with cancer into a way of helping others enduring the same thing.
Ania Moriarty was just 3 years old when she was diagnosed with retinoblastoma in 2013. Retinoblastoma is a rare malignant tumor of the retina that affects young children. Nearly 300 kids will be diagnosed with the disease this year.
Ania endured months of treatments but eventually lost her left eye to the disease. She is currently in remission and preparing to start kindergarten this fall.
During her years of treatment, Ania discovered her talent of painting and creating beautiful artwork. Art was her therapy while attending her visits and treatments at Advocate Children's Hospital. Now, her journey has evolved into helping other families who are experiencing what her family went through with the Dainty Warrior Project, which showcases Ania's paintings.
In the beginning, the project started as a way to help raise money for Ania's mounting medical bills. Her paintings were sold on Etsy to raise the funds.
"My daughter may appear dainty, but she is indeed a warrior and that is where we came up with the name," says Ania's mom, Erica Moriarty. "I kept hearing that I should start a blog, so I did. That's where we began to share our story."
Erica recognized an opportunity to use the family's experience to help others.
"We always believed that Ania's story had a bigger purpose," Erica says. "We felt lucky. And we thought how can we do something with this and help other families."
Ania continues to paint pictures, but now with a new mission. Sales from the paintings are helping other families who are going through childhood cancer treatment.
The funds raised help pay for a number of things, from meals to housekeeping to transportation.
"When we were going through everything, we had so many wonderful supporters," Erica says. "People offered transportation help, housekeeping, meals, and photography of our family, and as parents that was the biggest godsend."
Erica says their goal is to "take care of the whole family."
Currently, the Dainty Warrior Project is fundraising for airline tickets, gas cards, housekeeping services, and restaurant and grocery cards. Based in the Chicagoland area, the distance holds no limits to their mission. Erica is also arranging a network of photographers to take family photos that serve as a reminder of the strength of the family and memories to cherish.
Throughout her journey, Ania would always wear a set of costume wings.
"I got in touch with a woman who makes these wings," Erica says, "We not only will sell them to raise money for the families, but we also plan on sending one to every child we are raising funds for."
The Dainty Warrior Project is currently helping a few families behind the scenes while also looking for nominations for future families they can support.
Erica's hope is that Ania's inspiring story will not only continue to help other families but also raise awareness about this rare disease affecting young children across the globe.
Ania will continue to have routine eye check-ups with Dr. Michael Shapiro, her pediatric ophthalmologist at Advocate Children's Hospital in Park Ridge, Ill., for at least another year.
Watch Ania's inspiring story here and learn more about the Dainty Warrior Project and how you can support their mission here.
Related Posts
Comments
About the Author
Sarah Scroggins, health enews contributor, is the director of social media at Advocate Aurora Health. She has a BA and MA in Communications. When not on social media, she loves reading a good book (or audiobook), watching the latest Netflix series and teaching a college night class.