Don't ignore hypertension in kids, experts warn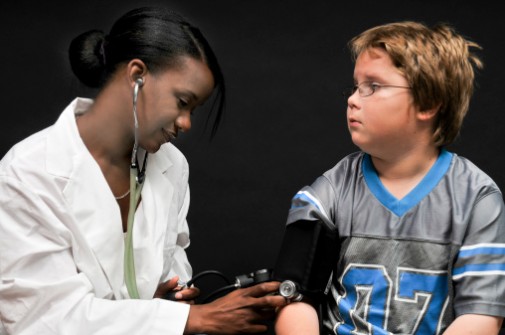 A new study suggests closely monitoring blood pressure during childhood could help reduce the chance of heart problems later in life.  The research shows that even slightly high pressure, if prolonged, should not be ignored in children and young adults.
Researchers from Johns Hopkins University School of Medicine followed almost 2,500 men and women, ages 18 to 30, through thorough checkups over 25 years.  Results showed that young adults who had blood pressure that was elevated, but still within normal range, for long periods of time were more likely to have left ventricle dysfunction, one of the most common causes of sudden cardiac death.
"It appears that significant damage to a person's future heart health could already be inflicted by high blood pressure by the time they are early adults," says Dr. Keith Williams, a pediatrician on staff at Advocate South Suburban Hospital and Advocate Children's Medical Group in Hazel Crest, Ill. "This research highlights the potential need to begin seriously and systematically monitoring blood pressure earlier in life in order to identify and manage patients at risk for serious heart issues later in life."
Dr. Williams says that when it comes to kids, "normal" blood pressure is somewhat relative based on a number of factors, most notably gender, age and height.
"You child's doctor will be able to calculate the healthy blood pressure range based on a calculation, taking into account all the appropriate variables," he says.
Dr. Williams also notes that there are a few primary causes of children's high blood pressure, including certain diseases and conditions such as kidney disease, some medications, and other contributing factors like family history, race or obesity.
While ancestry can't be changed, lifestyle can, says Dr. Williams.  He recommends focusing on a few key behavioral modifications that can help kids keep their blood pressure within a healthy range.
Here's what kids, and their parents, should work on:
Weight loss: If your child is overweight, your doctor might recommend and monitor an ongoing weight-loss program that includes a minimum of 30 minutes of aerobic exercise every day.
Daily exercise: Being fit is a key part of blood pressure. All kids with hypertension should be active for one hour each day.  Usually, exercise is restricted only when hypertension is very severe.
Dietary changes: Include more vegetables, fruits, low-fat dairy products, and fiber-rich foods in the child's diet.  Try to cut carbohydrates, fats, processed foods, and drinks with lots of sugar. Also, try to prepare low-sodium dishes and don't add salt to foods.
Related Posts
Comments
About the Author
Nate Llewellyn, health enews contributor, is a manager of public affairs at Advocate Medical Group. Nate began his career as a journalist and builds daily on his nearly 20 years of writing experience. He spends most of his free time following his wife to their two sons' various activities.