One man's journey to standing upright again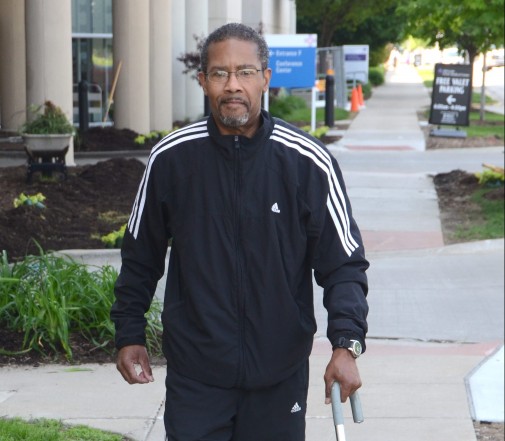 Ronnell Booze once determined who a person was by the shoes they wore because he was bent 90 degrees at the waist and unable to stand up straight. It took nearly five years and numerous surgeries before Booze found the surgeon who would give him a second chance at life.
In 2009, Booze then a 49 year old U.S. Postal Service letter carrier, was removing luggage from the top of his SUV when he lost his balance and fell off the roof of the car, damaging his spinal cord. He was taken to Advocate Christ Medical Center in Oak Lawn, Ill., where he was told that he was an incomplete quadriplegic, meaning that he had paralysis of all four limbs, but still had some sense of feeling.
Under the care of Dr. Roy Adair, a physical medicine and rehabilitation physician, he walked out of the hospital with the aid of a cane less than two months later. However, the after effects of the trauma were so damaging that his spinal cord began to deteriorate.
"[This] created a domino effect that lead to multiple surgeries over several years to try to relieve my pain and stabilize my spine," says Booze.
Following 10 separate surgeries from 2009 to 2014, Booze could no longer stand upright and was in excruciating pain.
"My bones were pressed up against my nerves because the cartilage had worn away," he says. "My spinal column was curved in a 'C' formation on my left side and I was bent at the waist in a 90-degree angle." To complicate things even more, his body was rejecting the metals from his fusion implants.
"I was a mailman and was used to walking a lot," Booze says. "After my accident I became completely dependent on a walker and often used a wheelchair. Life had just stopped."
In 2014, Dr. Adair referred Booze to Dr. Richard Lim, an orthopedic surgeon at Christ Medical Center.
Dr. Lim gave Booze the hope he had all but given up on. After several consultations and diagnostic tests, the doctor recommended a two-part surgery.
"He told me he would be able to lift my bones off my nerves and provide me a better quality of life," says Booze. "Dr. Lim met with my pastor and family members prior to surgery to explain the seriousness of the surgery, which involved working around my organs, including my heart."
In two operations that took place two weeks apart, Dr. Lim was able to correct failed fusions and significantly straightened Booze's spinal column.
During the first surgery, his spine was cracked in multiple places in order to break the prior fusions and allow for the spinal column to eventually be straightened. Then Dr. Lim placed screws into his spinal bones and pelvic bone in preparation for the second part of the surgery. For two weeks after the first surgery, Booze laid in traction at Christ Medical Center.
"This allowed his soft tissues to gently stretch, which protected his organs, including his heart," Dr. Lim says. "Performing this surgery at one time could have led to his blood vessels and organs stretching too quickly, which may have been fatal."
During the second surgery, Dr. Lim made an incision under Booze's rib cage to remove compressed and broken bones which helped correct a fracture in the front of his spine that was causing the "C" curve and collapsed spine. Dr. Lim also placed a small titanium cage in the space where his spine had collapsed.
After re-opening the incision made during the first surgery, rods were inserted into the screws that had been implanted into Booze's pelvic bone.
"This allowed me to 'crank' his spine back up with the support of the rods and provide a correction of more than 80 degrees to his spine," says Dr. Lim.
During this procedure, Dr. Lim also performed decompression surgery to lift Booze's bones and ligaments off of his nerves to alleviate his pain.
"Eighty percent of my pain is gone," Booze says. "I no longer use a walker, and I hope to be able to walk without my cane soon. I had no chance of a future before, but Dr. Lim has given me a second chance at life. My friends and family call it a miracle."
Related Posts
Comments
About the Author
Kate Eller was a regional director of public affairs and marketing operations for Advocate Health Care. She enjoys road trips, dogs, minimalism, yoga, hiking, and "urban hiking."