How one man's lifestyle changes saved his life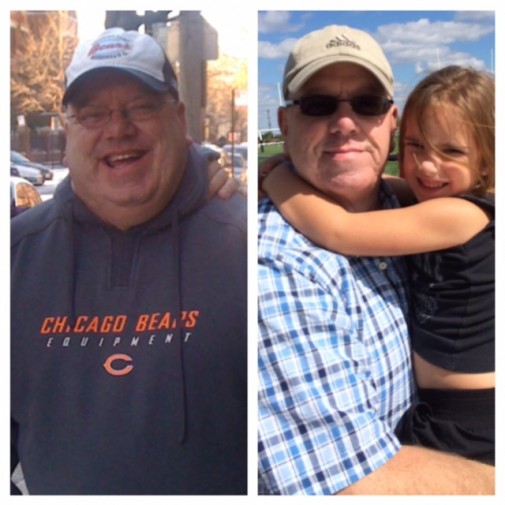 One day in 2011, Chicago resident Jim Meyers wasn't feeling well but couldn't pinpoint the problem – something just felt wrong.
That evening, the 43-year-old coughed and saw blood in his hand. He called 911 and walked to the ambulance when it arrived. That's the last thing Meyers remembers before waking up a month later at Advocate Illinois Masonic Medical Center in Chicago.
"We had breakfast with Jimmy a few weeks before he went to the hospital," says Nancy Meyers, Jim Meyers' sister-in-law. "He looked terrible. When we left, I said to my husband, 'I think Jimmy's going to die.'"
A serious diagnosis
Before going to Illinois Masonic, Jim Meyers had not seen a doctor in 20 years.
Once admitted, his physicians diagnosed him with several ailments including cirrhosis of the liver, atrial fibrillation and high blood pressure. Their primary concern was the cirrhosis as it had caused a life-threatening bleed.
Cirrhosis, the final stage of chronic liver disease, causes scarring on the liver and impacts liver function. Over time, cirrhosis can lead to serious problems including bleeding disorders, kidney failure and death. Alcohol abuse is a common cause of cirrhosis.
"I drank a lot for as long as I can remember — all the way back to high school," Jim Meyers says. "I drank every day, but I also went to work every day and never had financial issues, so I didn't think of it as a problem."
As soon as he got home from a month-long hospital stay, he started drinking again. A week later, Jim Meyers was back in the hospital with the same problems. This time, he recalls his family being less compassionate.
"I didn't even visit him during the second hospital stay because I was so mad," says Nancy Meyers, who was there nearly every day during his first hospital stay.
A big decision to make
Jim Meyer's prognosis was not a good one.
One of his doctors at Illinois Masonic, gastroenterologist Dr. Andrew Albert, told him he needed a liver transplant.
"He was very straightforward with me," Jim Meyers says. "He told me if I didn't get a liver transplant, I was probably going to die within a year, and if I didn't stop drinking, I wasn't going to get on the list for a transplant."
Jim Meyers didn't want a transplant, but he also wanted to live. He asked Dr. Albert if there were any alternatives.
"I told him if he completely quit drinking and smoking, and started exercising — basically turn his life around entirely — he might not need the transplant," says Dr. Albert. "But, it's so rare to see patients do that. In fact, I've never seen a patient with cirrhosis turn their life around in this way."
Jim Meyers was determined to be the exception. He stopped drinking, quit smoking and started exercising, ate better, went to the doctor, got up-to-date on his check-ups and blood tests, and took medication to treat his atrial fibrillation and high blood pressure.
"A thousand times better"
Within about a year, Jim Meyers went from 280 pounds to 200.
His blood pressure improved to the point where he no longer needed medication, and he had completely lost his desire to drink alcohol.
"If Jimmy can quit drinking, anyone in the whole world can," says Nancy Meyers. "He's a new person. He looks a thousand times better. He never saw my kids before, and now he's their favorite uncle."
The biggest impact of Jim Meyer's lifestyle changes, he can't get on the list for a new liver because he's too healthy.
"This is what we strive to achieve as physicians," says Dr. Albert. "When patients are truly engaged in their care, as Jim was and still is, this kind of change is possible. This is the focus of health care today — getting patients to be involved in their care rather than just going to the doctor. Jim is an excellent example of how that level of patient engagement can change your life. In some cases, it can even help save your life."
To celebrate his success in turning around his health, the Chicago Bears and Advocate Health Care invited Jim to take part in pre-game festivities at Soldier Field at the Bears first pre-season game against the Miami Dolphins.
Related Posts
Comments
About the Author
health enews staff is a group of experienced writers from our Advocate Aurora Health sites, which also includes freelance or intern writers.