Early detection saves mother of triplets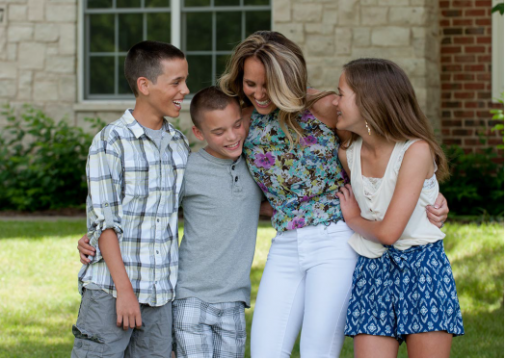 While vacationing in Puerto Vallarta, Mexico, then 40-year-old Aimee Suyko felt a lump in her breast. Having felt them before, she didn't think it was anything to worry about.
After returning from vacation, a mammogram and ultrasound raised concerns, and a biopsy and MRI later confirmed her worst fear – the tumor was malignant, she had breast cancer. A mother to 10-year-old triplets, Suyko and her husband's first obstacle to tackle was how to tell their children.
"The kids knew I had testing done and were aware of a possible concern, we wanted them to hear the news from us," Suyko says. "We live in a small town and knew once we started telling people, everyone would know."
They were honest with the children in that they didn't know what the process would be, but they would keep them informed every step of the way, not hiding anything from them.
Suyko met with Dr. Barry Rosen, a breast surgeon at Advocate Good Shepherd Hospital in Barrington, Ill., to discuss her MRI results.
The size of the tumor determined that she was a candidate for a lumpectomy. However, with Suyko's family history of breast cancer, they discussed the course of treatment that would give her peace of mind in the future.
"I knew right away that I wanted both breasts removed because I didn't want to constantly worry that the cancer could come back in a few years," Suyko says.
"Choosing to undergo a double mastectomy is a difficult decision for women, but based on her family history, Aimee [Suyko] was being very proactive with her health," Dr. Rosen says. "I think that for young women with breast cancer and a strong family history, the prospect of never having another mammogram again can be very appealing."
Her decision proved to be incredibly wise. After both breasts were removed, the breast without the tumor was found to have precancerous cells in it.
Due to the size of the tumor and the fact that her lymph nodes were clear, Suyko didn't need to undergo any chemotherapy or radiation. She is on a 10-year regimen of the cancer drug tamoxifen.
Suyko says she couldn't have gotten through the process without the support of her husband, family and friends in her community.
"I'm a person who doesn't like to accept help from others but during my recovery from surgery I really did need to just sit down and let others take care of me," Suyko says. "I couldn't believe the kindness of our community and how they all came together to support the needs of our family."
Five months later, Suyko completed her reconstructive surgery. Now a year after her procedures, she finally feels like herself again with her energy and strength back.
"Owning my own fitness business, I was eating the right foods and exercising regularly so I couldn't believe I was the one with breast cancer," she says. "However, I kept up with my healthy lifestyle which I think helped during my recovery. I would recommend the same for anyone undergoing breast cancer treatment since movement and stretching really helped me."
Going through this process made Suyko appreciate every day with her family and made her slow down.
"I was moving so quickly I didn't always slow down to just enjoy time reading, playing and hanging out with my kids," she says. "Breast cancer has made me appreciate all the little things in life so much more. I'm grateful for every day. I tried to do it all and now I'm more likely to ask for help. I think as women we all need to do that more."
"As such a healthy person with such a shocking diagnosis, she reacted with incredible resolve, tenacity and strength," Dr. Rosen says. "Even more so, Aimee [Suyko] has paid it forward by being a resource to newly diagnosed breast cancer patients who can benefit from her guidance. She is a true inspiration."
Suyko has had numerous conversations with her daughter and her younger sister about the importance of knowing their family history and early detection. The American Cancer Society recommends yearly mammograms for women 40 years old and older.
"If you feel a lump, go get it checked out right away and don't just assume it's nothing," Suyko says. "If I can help just one person with that message, sharing my story is so worth it."
To learn more about breast health, visit Stories of the Girls. Learn more about Aimee, click here.
Related Posts
Comments
About the Author
health enews staff is a group of experienced writers from our Advocate Health Care and Aurora Health Care sites, which also includes freelance or intern writers.