How work spaces affect Millennials' health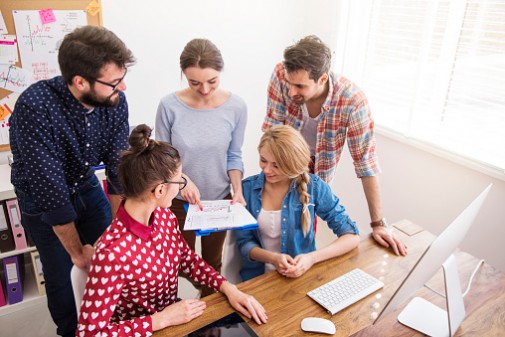 Millennials, adults 18 to 34 years old, are reshaping the workplace with their drastically different characteristics and values compared to past generations. This tech-savvy, well-connected group of adults tends to prefer team collaboration and make work-life balance a top priority.
New research now suggests that employers can engage Millennials in a healthy work culture by tailoring their corporate wellness programs around the needs and wants of these young adults. A study, published in the Journal of Epidemiology and Community Health, finds that a healthy workplace is linked to fewer obese young adult employees.
Researchers analyzed data from more than 1,500 people who were surveyed twice over the span of 10 years about their typical eating habits, weekly exercise routine and details on their home and work life. The average age of participants was 25 years old at the time of the second survey.
Approximately 17 percent of young employees were obese if their employer actively supported and promoted healthy living, according to the study. At workplaces that offered no healthy living practices, 24 percent of Millennials were obese.
For Millennials who crave convenience and work-life balance, participating in a 30-minute lunchtime yoga class with colleagues can free up time after work that can be spent with friends or family.
"Working young adults are dealing with many stressors such as being pressed for time, juggling personal and work responsibilities, and stretching limited resources," lead author Allison Watts said in a press release. "So, many young adults will reach for what is convenient."
Onsite fitness classes, nutritious meal options and health screenings are a few practices that promote health and wellness at work.
"Since the majority of an adult's week is spent at their workplace, companies have a great opportunity to help employees – both young and older adults – engage in healthy living by providing them with the necessary tools and education," says Dr. Emelie Ilarde, primary care physician at Advocate Christ Medical Center in Oak Lawn, Ill.
In addition to eating right and staying active, Dr. Ilarde offers these simple tips on staying healthy at work regardless of whether your employer offers a wellness program or not:
Stay hydrated by keeping a reusable water bottle on your desk.
Take a quick break every hour to get up, walk around and stretch your legs.
Take the stairs instead of an elevator or escalator when you need to move between floors.
Use your lunch break to take a 15-minute walk outside for fresh air and vitamin D.
Prepare your meals the night before to prevent you from buying unhealthy food in the cafeteria.
Stock up on healthy snacks. Cherry tomatoes, carrot and celery sticks, and nuts are all examples of snacks that will fill you up and give you a boost of energy during the day.
Related Posts
Comments
About the Author
Julie Nakis, health enews contributor, is manager of public affairs at Advocate Children's Hospital. She earned her BA in communications from the University of Iowa – Go Hawkeyes! In her free time, she enjoys spending time with friends and family, exploring the city and cheering on the Chicago Cubs and Blackhawks.