Camping kits boosting spirits for childhood cancer patients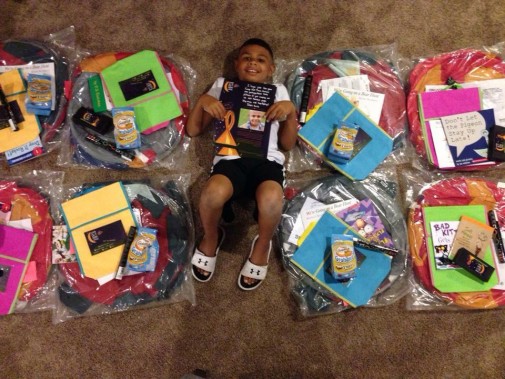 In 2011, 5-year-old Isaac Parris was diagnosed with a fast-growing brain tumor. His tumor was found through a CT scan after Isaac showed signs of pain in his head.
April Schippers, Isaac's mom, says it's been a long and emotional journey since that day. Isaac went through a five-hour brain surgery that removed 100 percent of the tumor, followed by five blood transfusions, nine rounds of chemotherapy at Advocate Children's Hospital in Park Ridge, Ill., and 30 radiation treatments at a center in Warrenville, Ill.
"We received the results from Dr. John Ruge that his tumor was cancerous," Schippers says. "Medulloblastoma brain cancer is one of the most common pediatric brain tumors. One of the most difficult parts was after the surgery, when Isaac had to learn to walk and write again."
Now, four years later, Schippers says the treatments are over and Isaac is in remission. Since then, the family has been devoting their time to getting their life back on track while also giving back to others.
Isaac, who turned 10 this summer, is a spunky little boy whose mission is to help other kids fighting cancer by giving them "camping kits" for their hospital stay.
Schippers says they were inspired by the generosity of others.
"We were very blessed by so many organizations who made the journey a little bit easier while staying in the hospital," she says. "So we came up with the idea to do camping kits for kids who are in treatment."
The kits include a flashlight, snacks, an indoor play tent and other goodies that the children can use to distract them while they are at the hospital.
"Isaac and his sister, Ivy, do all of the shopping and they help package the kits," Schippers says. "They go with me to mail them out, too."
She says the idea has really blossomed.
"We started to bring the kits to Advocate Children's Hospital on Isaac's one-year anniversary of being cancer-free," she says. "But then our friends and family found out and wanted to help out even more."
Camp Out From Cancer was created. Since they gave out their first care package two years ago, they have now delivered more than 300 camp out kits.
"We not only drop off the kits to hospitals in our community, but we also take nominations and can mail them anywhere in the U.S." Schippers says.
Isaac now has MRIs every six months and he will have them for the next two years, then will move to yearly scans until he is 25.
To learn more about their organization or to nominate a child to receive a care package, check them out on Facebook.
Related Posts
Comments
About the Author
Sarah Scroggins, health enews contributor, is the director of social media at Advocate Health Care and Aurora Health Care. She has a BA and MA in Communications. When not on social media, she loves reading a good book (or audiobook), watching the latest Netflix series and teaching a college night class.