What are the best ways to treat hot flashes?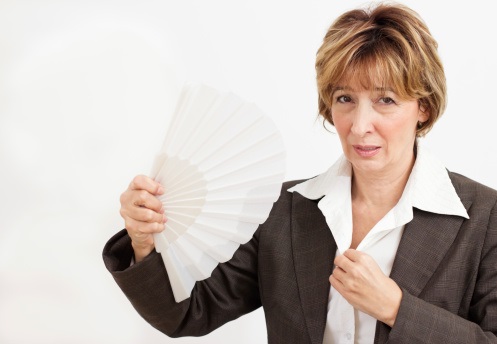 Nearly 75 percent of North American women have menopausal hot flashes. Many cannot use hormones to treat their symptoms for medical reasons or simply choose not to.
Others try non-hormonal therapies, but get little relief from the symptoms, according to the North American Menopause Society (NAMS). Recently, a panel of NAMS experts examined the evidence from randomized, double-blind controlled trials and discovered that a cognitive-behavioral therapy approach combining relaxation techniques, sleep hygiene and learning healthy approaches to menopause significantly reduced women's ratings of hot flashes, but not their frequency.
The study also found that various nonhormonal prescription medications helped with hot flashes, but still may not offer as much relief as hormones.
"We do not have enough evidence about the long-term safety of most non-hormonal agents," says Dr. Denise Elser, urogynecologist at Advocate Christ Medical Center in Oak Lawn, Ill. "For example, some over-the-counter products such as wild yam cream can elevate levels of estrogen in the blood stream much higher than if we knew the dosage from a pill. Use of the cream can overstimulate the uterus, leading to abnormal cells, but we do not yet know how this affects bone or breast health."
Dr. Elser also says black cohosh, another non-hormonal agent women use to treat menopausal symptoms, can cause low blood pressure and should be avoided in women with seizures.
Still, many wonder whether hormonal or non-hormonal therapies are safer.
"Newer evidence supports 'the timing hypothesis,' meaning that estrogen may be a benefit or a risk based on the age at which a woman starts it," Dr. Elser says. "More benefits are seen if women start estrogen in the first decade of menopause, but risk may outweigh benefits if it is started after age 60."
Systemic estrogen, hormones taken by mouth, intravenously or by skin application, elevates hormone levels in the blood and delivers more effective control of hot flashes, but may pose more risk. Adversely, topical estrogen, applied vaginally, poses little risk but may only provide local benefits such as less vaginal dryness, fewer urinary symptoms and more comfortable sexual activity.
"In women with a uterus, estrogen without the balance of progesterone can cause uterine cancer," Dr. Elser says. "When estrogen is first started, the risk of blood clot temporarily increases, but for many women, estrogen is definitely the best therapy."
For those who cannot use hormones for medical reasons or simply choose not to, Dr. Elser recommends the following tips for treating hot flashes:
Make changes in your diet such as limiting coffee and red wine intake.
Ask your doctor if an antidepressant such as Zoloft is appropriate for you. Often taking the pill just 10 days a month is sufficient.
Try specialty pajamas and pillows designed specifically for menopausal women to make bedtime more bearable.
Quit smoking. A recent study found that those who quit were less likely to suffer from hot flashes than women who continue to smoke.
Related Posts
Comments
About the Author
Holly Brenza, health enews contributor, is the public affairs coordinator at Advocate Children's Hospital. She is a graduate of the University of Illinois at Chicago. In her free time, Holly enjoys reading, watching the White Sox and Blackhawks, playing with her dog, Bear and running her cats' Instagram account, @strangefurthings.