Beating non-Hodgkin's lymphoma against all odds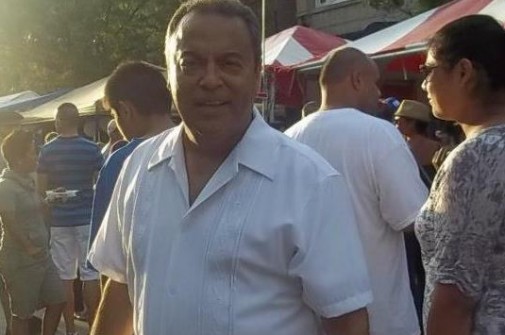 When Ray Cruz went to his chemotherapy treatments, he wore a shirt and tie.
"You would think it would be natural to wear jogging pants and a T-shirt, but I guess I didn't really think anything of it," says the 63-year-old who was diagnosed with stage IV non-Hodgkin's lymphoma three years ago. "I just went in the same thing I would wear to work."
This was Cruz's attitude throughout treatment – keep things normal and get through it.
He continued to work at his sales job throughout treatment, taking minimal days off and trying not to let the side effects of chemotherapy slow him down too much.
"Attitude was always a big deal for me," he says. "I'm not a whiney person. I can only control what I can control."
Pain and warning signs
Cruz first noticed concerning symptoms in the summer of 2012. He had ongoing back pain, and, for two straight days, he had blood in his urine.
His doctor ordered a CT scan, and they found cancer on his prostate. Further testing showed his lymphoma had spread to other areas of his body, and his enlarged lymph nodes were interfering with his kidney and bladder function.
"Ray [Cruz] was in a lot of pain," says Dr. Denise Levitan, Cruz's physician and a medical oncologist at Advocate Illinois Masonic Medical Center in Chicago. "We always talk about the side effects of treatment and we seem to forget about the side effects of cancer. In this case, those symptoms were really affecting him."
A common cancer
Non-Hodgkin's lymphoma is a cancer that starts in the cells of a person's lymph nodes or other lymphoid tissue. It is one of the most common cancers, affecting more than 71,000 people each year, according to the American Cancer Society.
The key difference between non-Hodgkin's lymphoma and Hodgkin's lymphoma is how the cancers look under a microscope, says Dr. Levitan.
Some of the most frequently experienced symptoms of non-Hodgkin's lymphoma include:
Swollen or enlarged lymph nodes without an infection, or those that persist or increase in size
Unexplained weight loss
Night sweats
Generalized itchiness
Low red blood cell counts, or anemia
"Many of these warning signs could signal other, less serious problems," says Dr. Levitan. "It's important to talk to your doctor if you experience any concerning symptoms. Biopsies and other tests can help us get to the bottom of the issue."
Beating lymphoma
"The more aggressive forms of non-Hodgkin's lymphoma, like the one Ray had, are actually more curable," says Dr. Levitan. "The good news is that this is one of the cancers that people tend to be survivors of."
And, Cruz is one of those survivors. After six months of chemotherapy, he is now in full remission.
Cruz says he feels great and is lucky to have had a compassionate and experienced clinical team and strong personal support network to get him through this.
"The big thing for anyone to get through something like this is your attitude," he says. "You do what you need to do, and there's no way you can't get through it."
Related Posts
Comments
About the Author
health enews staff is a group of experienced writers from our Advocate Health Care and Aurora Health Care sites, which also includes freelance or intern writers.