Americans are replacing saturated fats with unhealthy options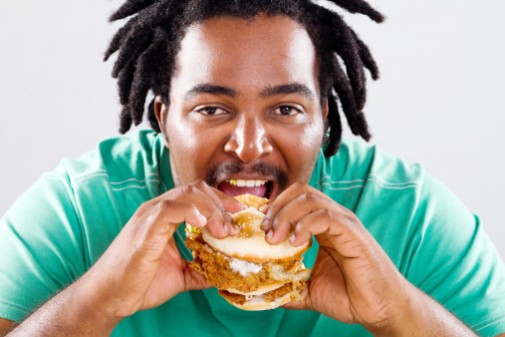 There's some good news when it comes to healthy eating – people are removing saturated fats from their diets in an effort to improve their health.
However, they are replacing saturated fats with other unhealthy options, according to a recent study published in the Journal of the American College of Cardiology. Instead, saturated fat is being replaced with low-quality carbohydrates such as potatoes, white bread and other processed foods, which doesn't improve health.
Study participants who replaced 5 percent of their saturated fat food consumption with carbohydrates such as refined starches or sugars were not at a lower risk for coronary heart disease. Those who replaced saturated fats with carbohydrates from polyunsaturated fats benefitted from a 25 percent lower risk of coronary heart disease.
According to the American Heart Association, consumption of saturated fats can raise cholesterol levels, which increases a person's risk for stroke and heart disease.
"Given the detrimental effects that a diet high in saturated and trans fat can have on heart health, it is vital to limit these fats and replace them with healthier choices," says Hannah Diamond, registered dietitian at Advocate Christ Medical Center in Oak Lawn, Ill.
According to the 2010 Dietary Guidelines for Americans, most of the saturated fat in American's diet comes from full fat cheese, pizza, desserts like cakes, cookies and donuts, and meats such as sausage, hot dogs, bacon and chicken.
The AHA recommends limiting saturated fat intake to less than 7 percent of total daily calories and trans fat to less than 1 percent of total daily calories.
Diamond also suggests that for a woman needing 1,600 calories per day, they should get less than 112 calories (12 grams) from saturated fat and less than 16 calories (2 grams) from trans fat per day.
While these numbers may seem daunting, Diamond says making healthy choices doesn't have to be.
"Limiting saturated fats starts at the grocery store," she says. "The fat content is listed on the nutrition facts label of packaged foods, which makes it easy to monitor your intake."
Diamond also says it is helpful to remember that saturated fat-containing foods are usually, but not always, from animal sources, whereas unsaturated fats tend to be plant-based.
"Always remember that it's still important to keep portion sizes in check, especially when it comes to fat," she adds.
Diamond offers the following tips for avoiding saturated fats:
Select low-fat or fat-free milk, yogurts and cheeses, leaner cuts of meat like skinless chicken or lean ground sirloin and purchase canola, olive or soybean oil instead of butter, shortening or lard.
At snack time, choose nuts like almonds and walnuts instead of chips.
Add sliced avocado to salads and sandwiches in place of using a creamy dressing or mayonnaise spread.
When sautéing vegetables, use olive or canola oil instead of butter.
Related Posts
Comments
About the Author
Holly Brenza, health enews contributor, is a public affairs coordinator on the content team at Advocate Health Care and Aurora Health Care. She is a graduate of the University of Illinois at Chicago. In her free time, Holly enjoys reading, watching the White Sox and Blackhawks, playing with her dog, Bear and running her cats' Instagram account, @strangefurthings.