How cell phones are ruining relationships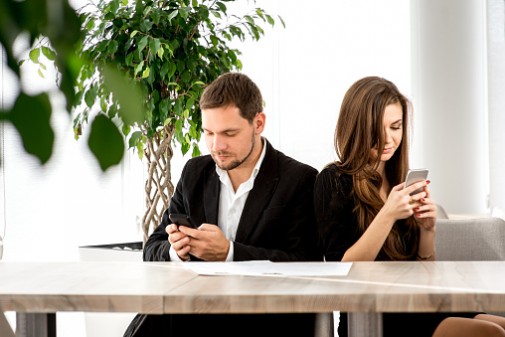 "Could you just put down your phone for one minute?"
While this may sound like the cry of an exasperated mother to her teen who is constantly glued to their cell phone, it may also be heard on a dinner date when one adult seems more interested in his or her phone than their significant other.
Phone snubbing, or "phubbing," is looking at your phone in a social setting instead of giving full attention to the individual you are with. According to a Baylor University study, this can create conflict in relationships.
During the study, 46.3 percent of people surveyed said they had experienced phubbing by their significant other, and 22.6 percent said phubbing had caused problems in their relationship. In addition, 36.6 percent of respondents said they were depressed some of the time, and 32 percent said they were fully satisfied with their relationship.
"What we discovered was that when someone perceived that their partner phubbed them, this created conflict and led to lower levels of reported relationship satisfaction," said Meredith Roberts, PhD, in a news release. "These lower levels of relationship satisfaction, in turn, led to lower levels of life satisfaction and, ultimately, higher levels of depression."
While cell phones make communicating easier than ever before, becoming addicted to the constant contact with the outside world is also possible.
"A person who is a little too addicted to their phone will be sure to always have it by their side," says Lori Osborne, mental health clinician with Advocate Medical Group in Normal, Ill. "They'll set it out where they can see it when interacting with others. If the person tries to put it away for a while or loses or forgets it at home, they may panic and change their plans in order to retrieve it."
Osborne says this does exclude those who need their phone for real emergencies. Some signs of cell phone addiction include:
Feeling uneasy without a phone right next to you
Feeling withdrawal, a void, depressed or angry, and being pre-occupied about how to get it back if a phone is not right near you
Checking the phone first thing in the morning and last thing at night
Continuing to socialize on the phone even when talking to a real person
Over-checking your phone at work/school
Staying up too late to catch up on social sites or surfing the Internet
Skipping social events where phone use isn't allowed
Obsessing about its use and whether there is a message waiting
"If these behaviors contribute to conflicts with family and friends, being late to work or doing poorly in school, for example, the person is likely addicted to their phone," say Osborne.
For those who are experiencing problems due to their cell phone use, Osborne recommends the following steps:
Acknowledge that a phone use is causing problems in their life.
Accept feedback from a partner can help know what needs to be done differently.
If it is too difficult to stop over-using the phone, look deeper to find out what need is being met that draws them back to the phone repeatedly and find a healthier way of meeting that need.
Watch one's self-talk which is that inner voice that saying "Check one more time, maybe something's there…" It is important to be mindful and not react to impulses that keep us from our goals.
Set a time frame can help. For example, try limiting phone use for three weeks, then reassess.
Related Posts
Comments
About the Author
health enews staff is a group of experienced writers from our Advocate Aurora Health sites, which also includes freelance or intern writers.